I didn't read nearly as much in February as I did in January – only four books, and one was a novella! Yikes. I'm now coming to the realization that I need to dedicate more time to reading in March, for sure. However, that puts me at 13 books for 2023, which is only 3 books behind where I should be to hit a goal of 100 books for the year. There is definitely time to make up for that deficit!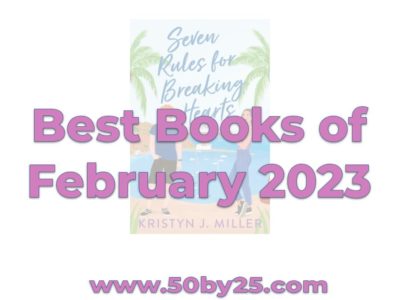 4 stars:
Seven Rules for Breaking Hearts, by Kristyn J. Miller: Margo and Jo run a popular romance podcast, focusing on hooking up without actually getting attached. However, Jo breaks the rules and decides to get married – and while one of their podcast sponsors gives them an all-expenses-paid multi-week wedding trip to Catalina Island, Margo feels the pressure of needing to come up with an idea to save the podcast, or at least keep it going herself. Problem is, she's crushing on the best man, who's also her childhood nemesis. I thought this was a cute and fun read, though Margo's immaturity was hard to take at times. I enjoyed seeing the behind the scenes look at the podcasting business world, and the romance was sweet (when I could set aside Margo's annoying self-sabotaging behavior), though predictable. Overall, a fun beach read.
3 stars:
Maybe Now (Maybe, #2), by Colleen Hoover: I enjoyed Maybe Someday; this sequel follows Sydney and Ridge, Warren and Bridgette, and Ridge's former girlfriend Maggie as they each try to find happiness in their relationships. It starts by focusing on Maggie, a twenty-something with cystic fibrosis who knows she only has a few years left to live, and I loved seeing how she went after life with abandon and tackled the things on her bucket list. I was frustarted by how she irresponsibly put her care on others, but I gave her a little grace since she's only in her 20s. The other characters, however, were a little bit meh to follow – I didn't know anything about Warren and Bridgette's relationship, and I felt like I still didn't after reading. Meanwhile, Ridge and Sydney were a little too perfect to be true – particularly with how understanding Sydney was about the various dramas that ensued. It was fun to read more about the characters from the first book, but overall, this was just okay.
Maybe Not (Maybe, #1.5), by Colleen Hoover: I mistakenly read this novella third in the series instead of second. I still enjoyed it, but the third book probably would have been better if I had read this first! Warren gets stuck with a new roommate, Bridgette, who he hates – but also finds himself loving. There is a LOT of sex in this short book, and I found it frustrating that sex was the basis for their relationship (not a good one, in my opinion), but at least this shed light on a few things that came up in the other books.
Mrs. Fletcher, by Tom Perrotta: I can't remember who recommended this book to me, but it was – a bit meh? Eve is a 46 year old divorcee whose son has just left for college. Trying to figure out her new life, she enrolls in a gender studies class at the local community college, and finds herself making a whole new circle of friends – reminding her that she doesn't need to just be someone's mom, and she can always reinvent herself. The narrative was a mix of Eve's plot and her son Brendan's plot, and each was a coming of age story that was (obviously) for different times in life. Overall, there were a lot of keen insights by the author (I'd expect nothing less from Tom Perrotta) about modern life, love, and sex, but the story wasn't incredibly compelling and it took me a while to finish.
---
Any book recommendations for me? Follow me here on Goodreads to keep up with what I'm reading in real time.