I finished the year strong, with 10 books read in December 2022. Although that's a high number, that's actually almost exactly my average month – since I closed out the year with a whopping 122 books! That is the most I have ever read in a year (my previous best was 102 books in 2017), and while taking time off work / lying around during IVF probably influenced it, I was proud that I kept the average up even in months where I didn't have that stuff going on. For 2023, I am keeping my goal at 100 books for the year, but I'm hopeful I will once again surpass it 🤞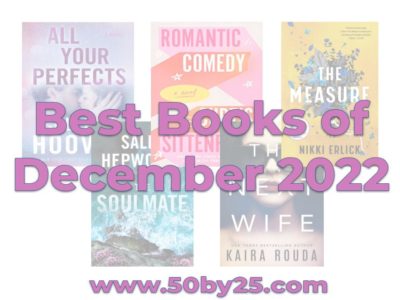 5 stars:
The Soulmate, by Sally Hepworth: Gabe and Pippa live in a gorgeous home, but one side of the yard backs to a cliff called "The Drop" – where people come to die by suicide. Gabe has become a local hero for talking people away from the ledge, but this time, a woman goes over the edge… and the woman, Amanda, is not a stranger, but someone Gabe knows. When Pippa realizes this, she wonders: what happened?! I loved this mystery and couldn't put it down. There were a bunch of interesting twists and turns, and the book is told from two POVs (Pippa and Amanda) to keep things moving. While I don't always love a beyond-the-grave perspective, this one felt realistic and balanced. There were a few somewhat far-fetched plot points, but I suppose that's to be expected in a suspense novel that contemplates murder. Overall, I loved it, especially the discussion around mental illnesses.
Romantic Comedy, by Curtis Sittenfeld: Sally is a writer for TNO (a fictionalized SNL), and she comes up with a sketch about what she terms the "Danny Horst Rule": that an average guy (like her co-writer Danny) can date an incredibly beautiful and accomplished woman (as Danny is dating a glamorous model who guest hosted the show), but the gender roles can never be reversed – i.e., a hot male celebrity can never date an average woman. But when sparks fly between Noah Brewster, the guest star / rock star musician one week, the question becomes – is that rule true? Curtis Sittenfeld doesn't usually write romances, and while the plot I just described sounds very rom com-y, this was NOT your typical rom com and didn't read like one. As another reviewer points out, there were no silly tropes, and the miscommunications were at a minimum. The first third of the book takes you behind the scenes of TNO, which I found fascinating; the second third is told in a series of heartfelt penpal emails during the pandemic lockdown, and Sittenfeld did an incredible job capturing Sally's and Noah's emotions and just making it all feel so authentic, right down to the weird gaps in timing and missed tone nuances that often happen with email. And in the final third, Sally and Noah finally explore whether they could have a real relationship. I loved this book SO much and can't recommend it enough!
The Next Wife, by Kaira Rouda: John founded EventCo with his first wife, Kate. The two are now divorced, since John had an affair with his secretary Tish, who he ended up marrying. But Kate and John seem to still be able to amicably run the business and co-parent their daughter, Ashlyn. On the eve of EventCo's IPO, though, Tish is worried Kate is trying to get John back – so she whisks him off to their house in Telluride for a romantic getaway weekend, which John doesn't seem to want. Then things get crazy – and you'll wonder who's good and who's evil. This was a really epic thriller that I couldn't put down; I am absolutely in love with the author after reading "The Widow" and have been looking for everything else I can get my hands on by her. Although I thought "The Widow" was more perfect in its nuances (whereas in this one, the villains seem just heartlessly villainous), I still loved this and would highly recommend it.
All Your Perfects, by Colleen Hoover: Quinn and Graham meet when their respective partners cheat on them with each other – yikes! But it all works out for the best, as they fall in love with each other and forget their former partners. The plot is told in two alternating timelines – from the beginning of their relationship to their happy marriage ("Then"), interspersed with the present-day ("Now") where they've been married for five years and are struggling with infertility. I loved seeing Quinn and Graham's relationship evolve, and it was particularly interesting to see how they went from madly in love (perhaps too quickly?) to completely distant from each other. I couldn't put this down and read it in one sitting – so good! Although the love story was perhaps a bit saccharine, the infertility struggles gave it a lot of depth, and I'd count this as one of the best novels I've read in a while.
The Measure, by Nikki Erlick: One day, every adult in the world receives a wooden box with their name on it… and a string. Each string is a different length, and it's soon discovered that the string indicates how long a person's life will be. This presents two questions to each person: do you want to know when you will die? And, if you find out, how will you live your life differently? Although the initial premise is certainly sci fi, the plot unfurls in a very realistic way – especially as discrimination issues arise when people treat the "short stringers" differently from the "long stringers." This book reminded me a bit of how COVID changed the way we all look at life, and I found it fascinating to see the cascading impacts. At first, there seemed to be a few too many characters, but eventually I realized it was just eight, and they all came together in unique ways (though they didn't all meet). I can't recommend this book enough – both for the thought-provoking plot and lovely prose. This was my last book of the year and I think it was my favorite. Full blog post on it here!
4 stars:
Attached: The New Science of Adult Attachment and How It Can Help You Find—and Keep—Love, by Amir Levine and Rachel S.F. Heller: I had read a few articles on attachment theory, and found it difficult to understand. This book made things so clear – and gave me a lot of insight into my past relationships, both romantic and platonic! The authors give insight and practical tips for people who are secure, avoidant, and anxious, and do so in a positive way – so those who are in relationships that aren't the ideal pairing don't feel attacked. Highly recommend this for everyone to better understand how they interact with others and how to improve those relationships.
3 stars:
A Thousand Heartbeats, by Kiera Cass: I was SO excited about the new Kiera Cass book, especially when I realized it was a standalone rather than a long drawn out series. However, I just didn't love the violent world built up here, and read kind of reluctantly since I was frustrated by so many of the characters. Annika is a princess in the prosperous kingdom of Kadier; she is reluctantly preparing to marry a guy she doesn't like to unite the kingdom. Lennox is a soldier who lives outside the kingdom, in a rough castle with a band of rebels who want to take back the kingdom they believe is rightfully theirs. Both characters have traumatic family backgrounds that are revealed slowly over the first half of the book, which felt like a tease, and I think prevented me from getting into the plot as soon as I would have liked. (At 40% of the way done, I found myself coming to Goodreads to see if others liked this and if it would improve, as I was considering abandoning it.) But things finally picked up a little over halfway through, and did come together in the end. Was it enough to recommend a 568 page read? Meh, probably not – there are certainly better books in this genre.
The Goodbye Year, by Kaira Rouda: Crystal Beach is a wealthy coastal California town; this novel was an "ensemble cast" book about the families whose kids were about to graduate high school and go off to college / into the real world. While the plot was initially really interesting, I soon felt like it wasn't getting to any kind of point – there was no primary conflict / resolution, and it just kind of meandered its way through. Several of the plots were very reminiscent of the over-the-top scandals and drama in Desperate Housewives (a show I loved), but one of the most dramatic plot points felt completely glossed over – it came out of nowhere, was described ever-so-briefly, and then was wrapped up with an annoying fast forward / epilogue. Although at first I couldn't put this book down, it finished much weaker than it started.
The Great Money Reset: Change Your Work, Change Your Wealth, Change Your Life, by Jill Schlesinger: This book covers personal finance for a post-COVID world, specifically, addressing how you may want to adjust your financial plan based on how the pandemic has made you rethink your life. A lot of us found that when our daily life was interrupted, we realized that we weren't totally happy with the way things were going, and I found this inspirational to hear about some of the big changes others were making. For myself, I don't feel the need to do a "great money reset", but I still got ideas for smaller changes I may want to make. I would say about half the book focused on current events and a true reset, and half was more personal finance 102. But it's well-written, a very easy read with an approachable tone, and includes both advice and personal stories to illustrate the tips.
2 stars:
Somebody's Home, by Kaira Rouda: Julie left her trophy wife marriage and Oceanside, California mansion to start fresh, with a smaller home on the other side of the tracks – as her icky husband watches and waits to try to get her back. But complicating the creepy factor is that the new house has an ADU, and Julie has agreed to let the former owner's son, Tom, stay for three more days before moving out. However, Tom is a messed up neo-Nazi who has some sort of big revenge planned, and Julie's daughter Jess seems to be making friends with him and might find herself in the middle of it. Obviously, this is a super creepy thriller, but I didn't find it totally satisfying – neither the plot, nor the ending. The characters felt a bit cliched, and I wasn't really rooting for any of them. I've loved all of Kaira Rouda's other books, but this one was a miss for me.
---
Any book recommendations for me? Follow me here on Goodreads to keep up with what I'm reading in real time.