I read 10 books in June – another big reading month! While I gave a bunch of books four stars, I would highly encourage you to check out Options are Power, which teetered for me between 4 and 5 stars.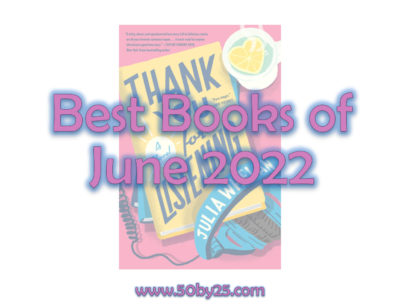 5 stars:
Thank You for Listening, by Julia Whelan: Sewanee is a former up-and-coming actress who was just on the verge of becoming a household name when an accident claimed her right eye, and ruined her career as she was forced to permanently wear an eye patch. Instead, she becomes a star audiobook narrator (not being into audiobooks myself, I didn't know this was a thing). While attending a convention in Vegas, she has a one-night stand with a book editor, Nick, which is super steamy… but then she's paired up to record an audiobook with the mysterious Brock McKnight (another audiobook narrator who goes by a pseudonym and has never been public about who he really is) and starts bantering with him via text / email. She feels torn between the two – how can she be interested in Brock when she can't forget Nick? No spoilers, but I loved this funny and sweet rom com, which was extremely satisfying, and also really enjoyed seeing behind the scenes of rom com audiobook recordings. It kind of made me want to become an audiobook narrator, haha!
4 stars:
The Hotel Nantucket, by Elin Hilderbrand: The Hotel Nantucket has been purchased by a billionaire intent on sparing no expense to bring it back to its former glory – he wants to do the impossible and be the first hotel to achieve a "five key" rating from a popular travel blogger. This is an "ensemble character" novel that follows a whole bunch of people who work at the Hotel Nantucket, as well as the ghost of a chambermaid who died at the hotel in 1922, and I found all the plots compelling – a big coup for these multiple POV books that usually have me rooting for one character over the others. And while I don't normally enjoy books about fantasy or the supernatural, Hilderbrand did a good job with the ghost character and made even that plotline feel not too farfetched. I loved that one of the characters was a Cornell Hotel School student, and it was really fun to see the behind the scenes of a hotel opening and day-to-day operations. What a fun summer read!
American Royals III: Rivals, by Katharine McGee: Beatrice is queen of America, and starting to find her place in the world scene. Meanwhile, Princess Samantha is in love with a Lord who would have to give up his title for them to marry. Prince Jeff is a pretty minor character in this one, serving as a love interest for two side characters (Nina and Daphne) but not really having a plot / feelings of his own. But while Nina and Daphne both want Jeff, they are teaming up to take down a rival. I found the plots a little less compelling in this one than early on, and I was expecting this to be the final book in the trilogy, but… surprise! It ended on a cliffhanger and it sounds like there will be a fourth book in the series. Unfortunately, I don't know that I love that. The first book was definitely the best, but while this was still pretty good, I get annoyed with series books that drag on too long, as I forget what happened in the earlier books. I'll still read the final book, but I am hoping it is indeed the end and things get wrapped up neatly.
Lizzie Blake's Best Mistake, by Mazey Eddings: When Lizzie is fired from yet another job, she's not surprised – besides having ADHD, her parents have always told her she's irresponsible, messy, and lazy. She heads to a bar to take solace in a date, and assumes Rake will be her usual one-night stand… but when she gets pregnant, Rake insists on moving from Australia to support her and the baby. The narrative is witty and fast-paced, but Lizzie was such a complete disaster (and seemingly unwilling to help herself) that I really struggled to empathize with her or care about what happened to her. I felt bad for Rake, and like he had the patience of a saint, but I appreciated the author's portrayal of how learning disabilities can make people see the world in a different way, even if it was a bit heavy-handed in the overall message of "let's celebrate these differences instead of making people conform." In spite of disliking Lizzie, I still enjoyed this book, and will be looking for more by Mazey Eddings.
Drunk on Love, by Jasmine Guillory: Margot Noble runs a family winery with her brother; she's out at her BFF's bar on a Sunday when she meets a gorgeous guy, Luke, and throws caution to the wind by going home with him. But the next day, she walks into the winery to find her brother has hired him as her newest employee! (Shades of the first episode of Grey's Anatomy.) They decide to pretend like that night never happened, but you can imagine how well that goes. This is a fun and sweet read that may be a bit cliched in premise but is still charming and delightful – and I really enjoyed getting to see behind the scenes of the wine industry. Finished this in one night!
Options are Power, by Donna Peters: At my college reunion, I was lucky enough to attend a lecture by author Donna Peters, on "Designing Your Next Best Move", and I absolutely loved it. I immediately ordered her book, and it did not disappoint! This book walks you through the personas of people who are looking to make a move (Exploration Erika, Crossroads KT, and Hamster Wheel Hank), and encourages you to determine your core values, establish / update your personal brand, adapt your networking style and how you build relationships, and translate your skills to new applications. I appreciated the mix of personal anecdotes with practical exercises, and got a lot out of both. I also thoroughly appreciated that it was only 155 pages – so many times I feel like business books repeat the same thing over and over to try to hit a certain page count, but this was concise and to the point. My only quibble was that the last chapter was business advice that was much more generic rather than connected to the rest of the book (perhaps trying to pad that word count after all?) but I will easily overlook that with how fabulous the rest of the book was. I have already been highly recommending this to everyone I know, and will likely buy it as a gift for some of my coachees as well – go get this if you are considering any kind of change!
Welcome to Serenity (The Sweet Magnolias #4), by Sherryl Woods: I almost gave up on the Sweet Magnolias series after the last one, but this 4th book in the series got back to the saccharine-but-still-believable stories I enjoyed. Jeanette is the spa manager in Serenity, and finds herself very attracted to the new town manager, Tom. (How come everyone in Serenity is always immediately attracted to one person and it's just a matter of time before they end up together?) However, she's learned to keep her guard up, so the conflict here is whether Tom can break it down. Serving on my own city council, it was fun to see what Tom's life is like as a town manager, and I also really enjoyed the side plot between town flirt Mary Vaughn and her ex-husband. These books are starting to feel a little same-old same-old for me, but they're light enough to be the distraction I need from real life, so… I'll keep reading.
3 stars:
The Make-Up Test, by Jenny L. Howe: Allison is a PhD student at a prestigious university, something she's dreamed of since she was a kid. Unfortunately, she finds herself in the program with her ex-boyfriend, Colin – who not only broke her heart but also copied her course of study where he previously had no interest in medieval lit. This is kind of a hybrid of enemies-to-lovers and second-chance, but what I found most interesting was the glimpse into grad school life, which I knew nothing about before reading. I appreciated that COVID was touched upon in a vague way (this is some kind of post-COVID world, though a year isn't specified, but there are references to still carrying masks just in case), as I've wondered how authors will handle this as we get more and more past March 2020 and it seems outdated to ignore it, but this certainly didn't dwell on it. Overall, a cute read, though Allison's stubborn competitiveness (to the point of being fake) was a bit tiresome at times.
Feels Like Family (The Sweet Magnolias #3), by Sherryl Woods: Book 3 in the Sweet Magnolias series, and this one was… a bit much. Helen is a successful attorney who's always put her career ahead of romance, but she's been strangely attracted to Erik, the chef at her friend Dana Sue's restaurant, and her friends push them together. However, in the midst of all of this, she's suddenly hit with the ticking of her biological clock, and Helen embarks on a SUPER sketchy scheme to get pregnant that was pretty shocking to read. I was really disappointed by this book overall, especially since I've always totally related to Helen's career ambitions and lifestyle, and was looking forward to reading her story. Unfortunately, this portrayed her as conniving and fairly stupid… but hey, happy ending? :/
2 stars:
The Underground Railroad, by Colson Whitehead: After attending a lecture on the underground railroad, I was inspired to pick up this book… but oof, I kind of wish I hadn't. The underground railroad is portrayed as a literal underground railroad, a network of tunnels connecting safe homes throughout the south. I struggled to get over the impossibility of a literal railroad (how many years would it have taken slaves to build these tunnels and lay tracks… all while going undetected?) and while the rest of this book was certainly based on real stories, there was so much horror and torture packed into the narrative that it felt intended to shock rather than being a more realistic portrayal of what one slave experienced. Having won a Pulitzer, it's obviously quite a literary book, but at times the narrative was so disjointed that I had trouble figuring out exactly what was going on, and was tempted to skim forward and get back to the plot. (For example, there were a lot of mini-chapters that delved into some backstory on minor characters, but I found them unnecessary rather than enriching.) Overall, this was not for me.
Any book recommendations for me? Follow me here on Goodreads to keep up with what I'm reading in real time.