My weekend started out a little bit early, as I headed to the mountains Thursday after work. My company was giving us a four day weekend for Memorial Day, and I was excited to get started!
I took a long time to get going on Friday morning, both reading in bed and then eventually really craving a bagel. I decided to go to Avon to pick one up before heading out to hike. On the way back, Sadie and I saw a moose on the side of the road, right next to the trailhead where I was planning to hike.
After procrastinating catching up on email for a while, Sadie and finally headed out at 10:30 to take the Game Creek Trail up to the top of Vail. Because we got a late start, I ended up needing to email my one work call of the day and delay it until later in the afternoon, but she was really nice about that and it worked out fine. (I should also mention that it was a call with a vendor to set up a wine tasting, not a truly urgent work call!) The hike was beautiful, and it was so nice to have the trail to ourselves – I love hiking in Minturn for that reason.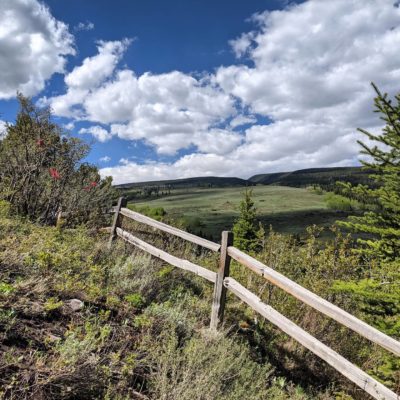 When we got to the top, I realized that part of why the trail up to Vail was so empty was that the gondola wasn't running – so no tourists could get up there unless they hoofed it up like we did! It was incredible to have the whole peak to ourselves, with the exception of a few workers doing trail maintenance.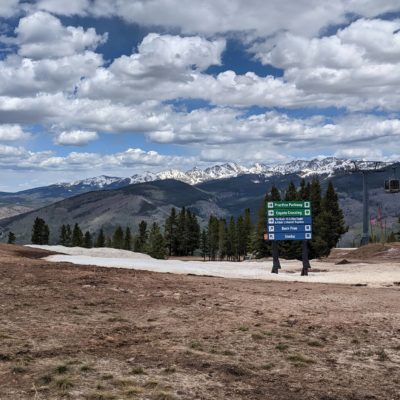 After my quick pitstop, we headed back down, though not very fast. I definitely run faster when I'm not with Sadie because I'm worried about her pulling and me tripping and falling! Someday we'll get those leash skills down…
When we got back home, I gave Sadie a bath, took my work call (I cannot wait for this tasting with Teneral Cellars!), and then was hoping to catch up on some emails… but instead, ended up hanging out with my friend Mike, who had arrived to spend the weekend with me. He had just had a bad breakup, so I invited him to come up to the mountains to get away from the Front Range and take his mind off everything. We hung out at my house for a while catching up, then headed two towns over to Edwards, to meet up with some of my Beaver Creek ski instructor friends. I was really excited to hang out with them in person and get to know them better, since I hadn't been able to do that all winter! I can't wait for next season…
After dinner, Mike and I ended up heading back to Minturn… but then being really indecisive about what to get for dinner. We wandered up and down Main Street for a while trying to decide where to eat. But every time we decided on a restaurant and walked there, it closed! Meanwhile, every time we went by my house, we could hear Sadie crying inside – she was upset that we came home and let her out but then put her back in the crate again after. Finally, we headed to Magusto's (the late night pizza place), which was not just open but absolutely bumping. This is the place to be in Minturn on a Friday night, evidently! Our pizza was delicious, but I definitely ate far too many of the fried pickle chips we shared as an appetizer. I went to bed full but happy 🙂
Saturday morning, I woke up far earlier than I would have liked. I really wanted to sleep late and try to catch up, as it's been a busy week where I didn't get as much sleep as I wanted! Fortunately, I had no plans until evening, so I had plenty of time to make a hike happen. Mike got up and headed out biking with Heather and Kirk, but it wasn't till an hour later that I finally got Sadie and headed out the door, walking to the edge of town to start at the Two Elk Trailhead.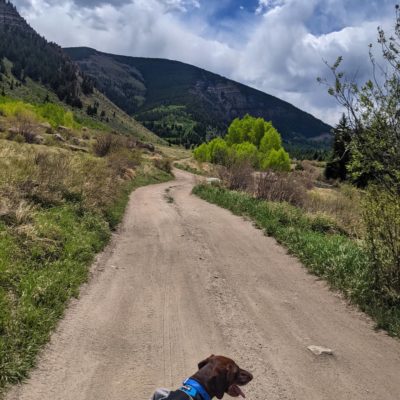 Unfortunately, it started raining a tiny bit on the walk there – the first sign that perhaps our hike was not meant to be. A few minutes later, it stopped. But the double whammy came when we finally got to the trailhead  (two miles from my house) and saw signs that the trail was closed due to elk calving season. Ironically, we had just talked about elk calving season at dinner the night before, but I thought it hadn't started yet, so I was really disappointed. The sign did say the trail was closed only partway up, so since we were already there, I decided to head up… but it turned out to be closed just a mile from the trailhead. This meant my total hike was only 5 miles and about 200 feet of vert; a far cry from the 18 miles and 3,000 feet of vert I had been thinking I'd do! But I took it as a sign that perhaps I needed a rest day.
After showering and cleaning up, I grabbed an Uber to Heather and Kirk's townhouse in Edwards, where I met up with them and Mike for a glass of wine before dinner. Then, it was off to Eagle – a tiny town on the far west edge of Eagle County, which happens to have a few great restaurants. We had reservations at Assembly, a new hotspot, and it was absolutely delicious. Gourmet food, a gorgeous high end atmosphere, yet very reasonable prices – in just one visit, this may have become my favorite restaurant in the Vail Valley! I'm excited to come back.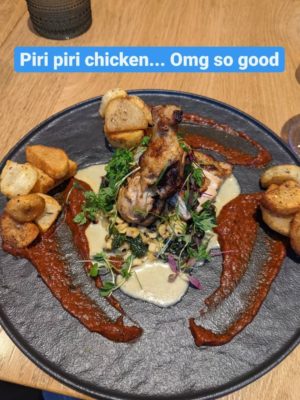 The next morning, following my Two Elk Trail faux pas, I woke up intending to get after it right away and do a hike of Meadow Mountain. However, it seemed that hiking was not in the cards for me this weekend! As soon as I picked up my phone, it had the phone equivalent of the blue screen of death, saying there was a critical system error and I could try restarting it, but otherwise I would need to wipe my phone. Well, of course I tried restarting it, as well as doing tons of online research to figure out what my other options might be. But after three hours of messing around, I finally had to wipe it, which sucked 🙁
Mike went out mountain biking on his own, while I thought surely I'd be able to get my phone going and then go on at least a shorter hike. But two hours later, he came back, and I was still busy trying to restore everything. Normally, Google handles restoring a phone pretty seamlessly (every year I've always been impressed how easy it is to setup my new Pixel!), but for some reason there was an error restoring, so I didn't get either my home screen layout or all my text messages, even though I could see they were successfully stored in the cloud. I was so frustrated! Finally, I decided to just leave it without those, so that my phone would be functional, and try again to restore it when I got home.
Still wearing my running clothes, even though I hadn't gone for a run, I headed out to meet Mike in Avon, along with a mutual former colleague and his son for brunch. Sekhar and his family were visiting Vail from Texas for a week, and it was so great to see him and catch up! We met up at Loaded Joe's, where I was incredibly impressed by some absolutely delicious lemon ricotta pancakes. It seemed this was the weekend for great food in the mountains!
From there, I stopped home just long enough to pick up Sadie and my stuff, and we started heading back to Superior. This time, my luck was good – no heavy traffic, and no hail (which Mike had warned me about, having left ten minutes before me). Sadie and I made it home in fast time, and then I spent the rest of the afternoon trying to get things sorted out on my phone. I closed out Sunday night with some wine and Indian takeout from Zaika, which was a lovely way to end what was a rather frustrating day.
I was originally thinking that after taking Saturday and Sunday as rest days, I might venture out to do a 10K time trial on Monday (in honor of the usual Memorial Day Bolder Boulder). But I ended up scrapping that idea when it was cold and pouring rain all day at home. Instead, I lazed around the house for a while, shopping online, blogging, and cleaning up. Finally, in the evening, I headed downtown to meet a date for the weekly Odell Brewing Company run club, which I had never done but where he was a regular. Unfortunately, we met at his house and drove together, and realized just as we were approaching the brewery that I had accidentally left Sadie's leash in his house instead of putting it in the car! Man, I had terrible luck this weekend with being able to do the workouts I had planned. Instead, we headed back to his house to get the leash, and then did our own brewery run in his neighborhood. Fortunately, there were pretty lake paths and plenty of breweries to pick from! We ended up doing a 4 mile loop that ended at Desteeg Brewing on Tennyson, where I got a Belgian tripel that was absolutely delicious.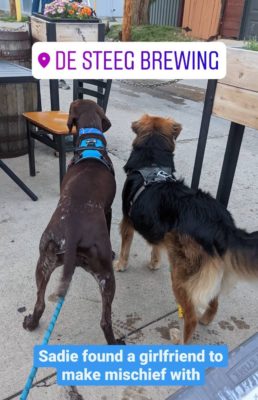 Finally, we closed out the long weekend with another night of Indian takeout – this time, from Little India. We literally even ordered the same dishes to share: crab masala and lamb korma. They were very different than the same dishes from the night before, but still really good, and we were quite happy with our decision 👍