I read a bit less in September than in previous months – it was a busy month for me! But I still read five books, which keeps me six books ahead of my goal to read 100 books in 2020. I can't believe we're already into the last quarter of 2020; this is going to be a good year of reading, for sure!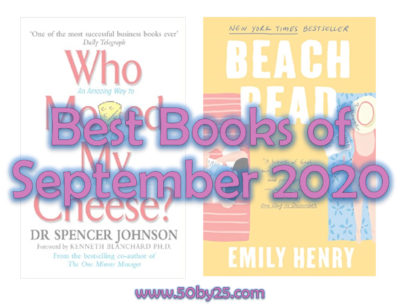 4 stars:
Beach Read, by Emily Henry: This came highly recommended, and I thought it was good, but maybe not quite all it was hyped up to be. Cute story, and I really enjoyed learning more about how books are written and what an author's life is like!
Who Moved My Cheese?, by Spencer Johnson: Very short and an easy read, but this parable has some great advice to make you think more deeply about where you are both in your work life and personal life – and be ready for change.
3 stars:
Fly Away, by Kristin Hannah: I read Firefly Lane years ago and really enjoyed it, but didn't enjoy this one nearly as much. I found the characters really frustrating in their inability to ask for help and insistence on pushing everyone away, which led to SO many bad choices. Maybe I would have enjoyed it more if I had recently read Firefly Lane, but reading it years later, I didn't like any of the characters (except the much-glorified Kate).
The Antidote For Everything, by Kimmery Martin: I loved The Queen of Hearts, and was so excited when I picked up Kimmery Martin's newest book. It started out strong, but then focused on the characters more than the moral question behind whether a for-profit hospital should be able to choose their patients. Either option would have been okay, but by trying to do both, neither one was done well. Meanwhile, if she was going for a character focus, I thought the character of Jonah wasn't fleshed out enough, and the way he burst into Georgia's trip made him instantly unlikeable. This wasn't great, but I should say it wasn't bad either – I did want to keep reading to see how it would turn out.
2 stars:
Welcome to the United States of Anxiety: Observations from a Reforming Neurotic, by Jen Lancaster: This was such a departure from Lancaster's usual humor! She still injected a bit of it, but it felt out of place with the more serious subject matter (especially given how privileged Lancaster is). Maybe I would have liked this more if I had gone in with different expectations, but I wanted a fun light typical Jen Lancaster read. This was NOT that at all.
---
Any book recommendations for me? Follow me here on Goodreads to keep up with what I'm reading in real time.