Where to even begin with this recap? It's been an amazing two full weeks off work, and while not everything played out exactly as expected, I'm pretty happy with how I spent my time.
The Thursday before Christmas, I flew from Atlanta (where my client is) up to Albany (where my family is). My dad picked me up when I landed, and we hit the mall for me to pick up some Christmas gifts in store – a lot easier than trying to carry them all on the plane! From there, we met up with my mom for a little while, and then the three of us headed up to Saratoga for dinner out on the town.
My dad suggested Druthers Brewing in downtown Saratoga, and it was an awesome choice. I got a gigantic and delicious salad along with a side of their famous mac & cheese "for us all to share." That is my classic move when I want something unhealthy but feel too guilty ordering it, ha! My parents each  had a little bit, but I'll admit that the lion's share went to me 🙂
The three of us had a great time catching up. When I was a kid, I used to think it was really weird that my parents were divorced but would be social at dinners / etc, and I was honestly kind of ashamed of it. But now as an adult, I'm really grateful that we can all meet up and have it be drama-free!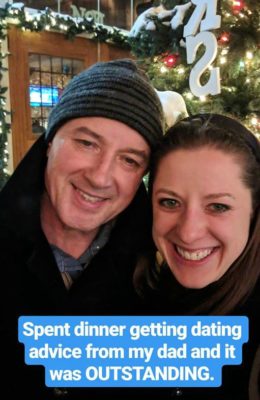 The next morning, after knocking out work most of the day, I headed over to my brother Lars' house, where I stayed the rest of my time in Saratoga. I got to pick my nephews up off the bus while Lars and my sister-in-law Andie were at a parent-teacher conference, and I was so excited to see them!! We played around for a little while, and then when my brother and sister-in-law got home, we all got bunded up and headed out to a Home Alone: Lost in New York party that some of Lars and Andie's friends were throwing.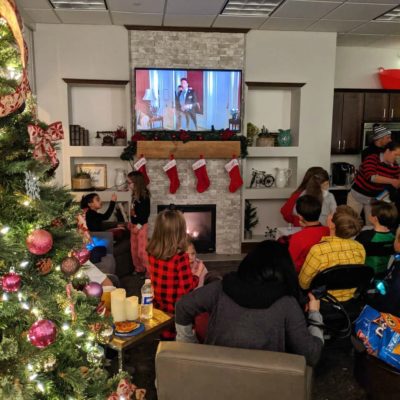 Saturday was a pretty low-key day, but it started out in the best possible way: waking up to my nephews tucked in beside me!
In other adorable news, I used the Peloton app to try doing some at-home bodyweight workouts with Andie, and once my nephews looked up from their Nintendo Switch and saw what we were doing, they wanted to join in. My four year old nephew, Breckin, kept saying "Aunt Laura, this is so easy!" But then we went for round two (of three sets), he got frustrated. "We already did this one!" Too funny.
That night, my mom came over to babysit the boys, and then Lars, Andie, their friend Elizabeth, and I headed for a big night out. My brothers' best friend growing up, Dan, now lives just 15 minutes away, and he and his wife Hillary were throwing a big Christmas shindig! I had a ton of fun seeing Dan and getting to meet a lot of new people, and all of us were definitely full of holiday cheer by the time we left 😉 I went home and to bed right after we left, but Lars, Andie, and Elizabeth stayed out to carouse the town. Props to them!
The next day, though, everyone was exhausted – myself included! I dragged myself to the local YMCA while everyone was sleeping, and discovered they had Keiser M3 bikes – which are often praised by DIYers in the Peloton Facebook group. I gave it a shot, but wasn't a huge fan – it felt to me like the Keiser wasn't as granular with adjustments as I would have liked. On both the Peloton and the Efitment bike that I have, you can turn the knob just a little bit to get a mild adjustment to resistance, but it felt like the Keiser required a big adjustment or nothing at all. Glad I got to try it!
I finished up my workout with a 30 minute holiday fun run Peloton class taught by Becs Gentry… and I loved it so much!! A really eclectic mix of holiday music (some pop hits, some traditional Christmas carols, some orchestral Nutcracker songs), but it ended with a Feliz Navidad challenge, which was kind of akin to the "Bring Sally Up" Crossfit thing. Becs told us to start running at a solid pace (I chose 8.0mph, which in hindsight was pretty aggressive). Then, every time the song wished us Feliz Navidad / Merry Christmas (yup, in either language), you increased your speed by 0.1mph. No slowing down at all! I ended the run at 10.5mph and was absolutely exhausted, but so proud of myself 🙂
Unfortunately, I paid for that the next day, when my calves were super tight 🙁 Nooooooo. Although, it may have also been exacerbated by the fact that I walked around shopping with my family all day in heeled boots (where I normally wear flats)? I can't attribute it all to the boots, so from now on, I'm setting a strict limit for myself of not running faster than 10.0mph…. at least until I am consistently running in the 9.0-9.5mph range pain-free.
Monday the 23rd was my family's big holiday. Once again, I snuck out in the morning to hit the Y (this time for a spin class with Alex Toussaint), and when I got back, it was time for a quick shower and then heading out to The Fun Spot. This entertainment complex in Glens Falls has roller skating, a Ninja Warrior course, an indoor maze structure (a la Discovery Zone), laser tag, a virtual reality quest, and an arcade… truly a fun spot!
We headed to Lake George for a quick late pizza lunch, and then when we got back to Lars' house, there was a lot to do. I headed to the grocery for some ingredients, and then was back to get the cooking going. I made this ever-popular brussel sprout salad and also helped my sister-in-law with this most amazingly delicious mac and cheese, we roasted a pork loin and some broccoli, and my dad made a traditional Polish cucumber soup as an appetizer.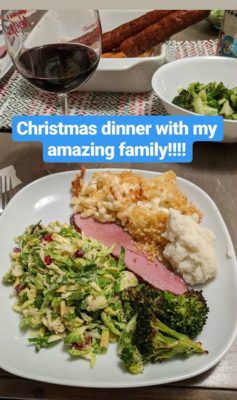 After dinner, I did my part of the present exchange (since I was leaving the next day), and was really proud to once again nail it with the gifts for my nephews. I always give my whole family new pajamas, but for my nephews, I get a few more things besides… and this year, one of those extras was a pair of slippers for each of the boys – dinosaurs for Breckin, and robots for Torin.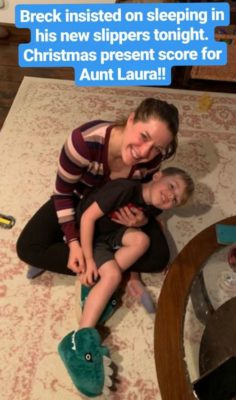 But alas, the next morning, it was time for me to say my goodbyes… I was headed home to Colorado for Christmas Day. Such a bummer to leave my family, but with how much I travel, I also wanted some time at home too!
While I absolutely love Colorado and there's no way I'd ever consider living somewhere else, this visit just made me appreciate my family so much… I wish I could see them more! My parents, my brother, my sister-in-law, and my nephews are just the best, and I loved getting to be part of their life for a week and hang out with all of their friends too. I know Colorado is the right place for me, but this visit definitely made me feel a bit torn between two places. I will definitely have to get back again for another visit in the next month or two!