Want to stay in bed longer? Here's what I've been loving, laughing at, and getting intrigued by all week long. Now cozy up with your laptop/tablet and enjoy 🙂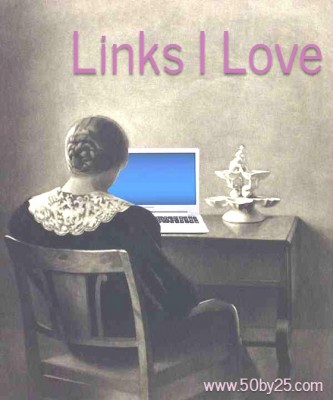 CAREER / BUSINESS
Target Builds Loyalty With Personalized Discounts. (Morning Brew)
Walmart Goes Wide With Unlimited Grocery Delivery. (Morning Brew)
Lowe's Joins Forces With the NFL This Football Season. (Morning Brew)
Finding Balance as a Dual-Career Couple. (Harvard Business Journal)
We asked two of our female editors to wear the same thing every day. Here's what happened. (Fast Company)
Survey Shows Having A White Male Advocate At Work Increases Pay. (Huffington Post)
Everyone thought I had a dream job. Here's what they didn't know.'. (Business Insider)
When to Share Personal Issues at Work. (Lifehacker)
PRODUCTIVITY / SOCIAL PSYCHOLOGY
What Makes People Charismatic, and How You Can Be, Too. (New York Times)
Talk to Yourself in the Third Person for Improved Clarity. (Lifehacker)
Contrary to Popular Belief: Five Ways Social Media Can Boost Productivity. (Laura Stack)
Embrace Your Anxiety by Reframing it as 'Excitement'. (Lifehacker)
There are 4 unique stress 'personalities'—and knowing yours can help you better combat it. (Well & Good NYC) I found this to be spot on for me!
How to Stop Being Late All the Time. (Lifehacker)
This SMS Service Gives You an Extra Incentive to Skip The Snooze Button. (Lifehacker)
Costa Rica's "pura vida" lifestyle prioritizes happiness, and you can harness it no matter where you live. (Well & Good NYC)
A psychologist's take on why re-creating your first date feels like the epitome of romance. (Well & Good NYC)
Quick Ways to Connect with Your Kids When You're Busy. (Lifehacker)
How to Use Your Phone Less, According to Reddit. (Lifehacker)
HEALTH / FITNESS
Being a proud cat lady keeps you young, healthy, and happy, says science. (Well & Good NYC)
Why You Should Lie (to Yourself) About Your Age. (Lifehacker)
Vaping Moves From the Bathroom to the Classroom. (Wall Street Journal)
The Best Way to Use Your Sleep Tracker. (Lifehacker)
When Is It Okay to Tell Someone They're Doing Something Wrong in the Gym?. (Lifehacker)
8 trainers share the best moves for working your obliques—and there's not a side plank in sight. (Well & Good NYC)
Why Do We Hiccup?. (New York Times)
Ragnar Race Training and Team Finding. (Run to the Finish)
TRAVEL
Wellness for Business Travel Is an Uphill Slog. (Skift)
Hospitality Brands Go All-In on the Sleep Movement. (Skift)
Check These Places for Bedbugs in Hotel Rooms Before You Unpack. (Lifehacker)
Actionable Intelligence: The Next Best Thing to Reading Your Guest's Mind. (Hotel News Now)
Beyond Loyalty Programs: VIP Amenities and Perks to Keep Your Guests Coming Back. (Hotel News Now)
Can Wearable Technology Keep Hotel Staff Safe?. (Hotel News Now)
Learn Your Destination's Emergency Number Before You Travel. (Lifehacker)
U.S. Department of Transportation to Enforce Federal Guidelines for Animals on Planes. (Skift)
Southwest May Share Boeing Max Compensation With Employees. (Bloomberg)
Why JetBlue Is Happy to See the Summer End. (Skift)
JetBlue Founder David Neeleman Considers Used Jets to Get Early Start at New U.S. Airline. (Bloomberg)
Why Europe's Short-Haul Aviation Market Is in Flux. (Skift)
MISCELLANY
8 "Normal" Things You Don't Have to Do Anymore. (Be More With Less)
Stop Impulse Shopping by Converting Prices to Time. (Lifehacker)
Handling Melancholy Without Buying Stuff. (The Simple Dollar)
You Can Now Change Alexa's Speaking Speed. (Lifehacker)
Don't Be a Dick About Other People's Food Allergies. (Lifehacker)
How to make something less salty, because cooking fails happen to the best of us. (Well & Good NYC)
A 4-item cleaning checklist for the germiest spots in the kitchen. (Well & Good NYC)
What Dating Older Men Taught Me About Power and Desire. (Vice)
Read Your Kid's Mind With This Magic Trick. (Lifehacker)
Print Out Your Kid's Nonfiction eBooks. (Lifehacker)
Snowball Ban Overturned In Colorado Town After Request From 9-Year-Old Boy. (NPR) Love this!
---
Like this post? Want more fun articles in real time? Follow me on Twitter or become a Facebook fan to get similar stories all week long.