Want to stay in bed longer? Here's what I've been loving, laughing at, and getting intrigued by all week long. Now cozy up with your laptop/tablet and enjoy 🙂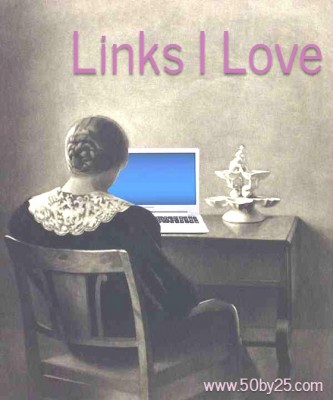 CAREER / BUSINESS
Get Paid to Move to These States. (Lifehacker)
How to Give Feedback People Will Listen To. (Lifehacker)
Why Equal Pay Makes No Sense AT ALL. (Twitter)
Marcia Kilgore, Founder Of Beauty Pie, On Disrupting Everyone From Estée Lauder To Glossier. (Forbes)
Reckless online shopping has a new poster product…. (Retail Brew)
Why ThredUP Is Launching Resale-as-a-Service. (Morning Brew)
Re:store Is Bringing Internet-Favorite Brands Offline. (Morning Brew)
The rise of 'pseudo-AI': how tech firms quietly use humans to do bots' work. (The Guardian)
Linguistic-fying Your Bot to Chat Responsively with Multilingual Audiences. (Hotel News Now)
The Rise Of Live Chat, Chatbots And Text Message Marketing. (Forbes)
PRODUCTIVITY / SOCIAL PSYCHOLOGY
How Job Stress Can Age Us. (New York Times)
Try Doodling When You're Stuck on a Big Project or Need to Relax. (Lifehacker)
Stop Confusing Habits for Routines: What You Need To Know. (Nir and Far)
Give Yourself a Pep Talk in the Second Person. (Lifehacker)
Beating the Diderot Effect. (The Simple Dollar)
Make Better Decisions by Questioning Your Assumptions. (Lifehacker)
The Value of Time Tracking – And How I Do It. (The Simple Dollar)
HEALTH / FITNESS
Don't Put All Your (Frozen) Eggs in One Basket. (New York Times)
A version of 911 specifically for mental health crises could be coming soon. (Well & Good NYC)
How to actually support a friend with cancer, according to survivors. (Well & Good NYC)
Which Type of Massage Is Right For You?. (Lifehacker)
The time of day that you work out matters, but not for the reason you think. (Well & Good NYC)
Does Lox and Other Smoked Fish Increase Cancer Risk?. (New York Times)
Three Myths About Sparkling Water, Debunked. (Lifehacker) This is helpful – I drink a LOT of sparkling water!
Should you be cleaning your hair brush? Here's what an expert says—and exactly how to do it. (Well & Good NYC)
TRAVEL
Wellness Arrives at the Airport Terminal. (Skift)
How to Recover Something You Left on a Flight. (Lifehacker)
How Much Do Planes Actually Get Cleaned in Between Flights?. (Lifehacker)
What Really Happened to Malaysia's Missing Airplane. (The Atlantic)
Delta Sues Chatbot Vendor Faulted for Data Breach. (Skift)
JetBlue Blames Airbus Jet Delays for Slowing Its Growth. (Skift)
Spirit Airlines' On-Time Arrivals Plan Backfired When It Cut Corners. (Skift)
American Airlines Will Make First Class Classier on Some Jets. (Skift)
Southwest Finally Gets (More) Serious About Business Travel. (Cranky Flier)
Southwest Airlines hopes to make Denver its busiest airport with 100 new flights. (Dallas Morning News)
Why flight attendants are upset Southwest Airlines offered raises and bonuses in a YouTube video. (Dallas Morning News)
Airlines Don't Hire Enough Female Pilots: New Study. (Bloomberg)
New Business Traveler Sentiment Index Reveals Hotel Experience is a Major Driver of Overall Trip Satisfaction. (Hotel News Now)
Today's Honeymooners Want Adventure Over Relaxation. (Bloomberg)
Similar: The Bachelor and Bachelorette Party Tradition Is Growing Up. (Bloomberg)
How to Research Local Etiquette Before Traveling Overseas. (Lifehacker)
MISCELLANY
Life and Leadership Lessons from Summer Camp. (Friday Forward) I'm volunteering at Experience Camp this week, so this Friday Forward was particularly timely!
Teachers paint uplifting art on bathroom stalls for kids who need it most. (USA Today) I love this so much!
Write Your Kid a Letter Every Year on Their Birthday. (Lifehacker)
Why You Should Treat Your Kids Unequally. (Lifehacker)
How to truly love living alone without feeling lonely. (Well & Good NYC)
Sexy lingerie is being replaced by sports bras. (NY Post)
Why You Should Stop Donating Your Stuff (and Do This First). (Twitch)
Twenty Common Items That See a Second Life in Our Home. (The Simple Dollar)
The Preventive Maintenance You Need to Do On Your Car (and When). (Lifehacker)
When Is It a Bad Choice to "Go Cheap"?. (The Simple Dollar)
These Are the 'Optimal' Summer Thermostat Settings. (Lifehacker)
Train Your Pet to Come To You When the Fire Alarm Goes Off. (Lifehacker)
Do You Ever Read Your Journal?. (Lifehacker)
How to DIY a super cheap, super effective writing retreat. (Yes and Yes)
A Life Well Lived. (The Simple Dollar)
---
Like this post? Want more fun articles in real time? Follow me on Twitter or become a Facebook fan to get similar stories all week long.