I'm really happy to get back to some more regular reading! In June, I read 8 books – some winners, and some losers. Since it's the halfway point of the year, my total of 34 books read thus far means I am 16 books behind schedule in my goal to read 100 books a year. While I don't expect to make up for that, I would like to finish the year with 84 books read – so that I am reading at a 100 book per year pace even if I don't make up the deficit. We will see how it goes!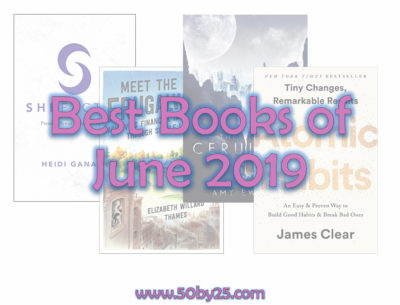 5 stars:
Atomic Habits: An Easy & Proven Way to Build Good Habits & Break Bad Ones, by James Clear: I read this in two halves, several months apart – not because it was tough to read, but because I didn't finish my library copy before it was due back! This was a phenomenal book though – great, well-researched content, yet written in simple language and told in a very compelling way. Highly recommended.
4 stars:
SheFactor: Present Power—Future Fierce, by Heidi Ganahl: This would make the absolute perfect graduation gift for a high school or college student! Heidi gives really practical advice and tips, all in a non-preachy and conspiratorial voice. The only thing I didn't like was that the personality test required an app download rather than being included in the book.
Meet the Frugalwoods: Achieving Financial Independence Through Simple Living, by Elizabeth Willard Thames: I found myself surprisingly eager to keep reading this book, despite the somewhat sanctimonious tone. I liked how the author shared the gradual journey to become homesteaders, and her skepticism along the way, which kept it relatable. I wish that we had seen actual numbers for what she was earning / spending, though! I am looking forward to reading the blog now that I've finished the book.
The Cerulean, by Amy Ewing: I had a little trouble getting this at first, because it was SUCH a different world. Sera's fate seemed to me pretty obvious from the second the sacrifice was announced, and I started out hating the characters of Agnes and Leo. But then the book got really good and I couldn't put it down! I ended up reading this in one day, and am now eagerly awaiting the next book. (Downside of duologies/trilogies: not getting any answers at the end of the first book. Minus one star for the extreme cliffhanger ending.)
3 stars:
Carnegie Hill, by Jonathan Vatner: I went back and forth on this book. There were times I found the plot / characters interesting, and other times when I was so bored. I found most of the characters to be really unlikeable, except for a few gem moments for each. Francis, in particular, was thoroughly obnoxious, and I wanted Carol to leave him almost as soon as we met them. In all, I was glad to finish the book and get some resolution, but didn't love it enough to really recommend.
Nine Perfect Strangers, by Liane Moriarty: I normally love Liane Moriarty's books, but found this really disappointing. There were too many characters to be developed, and by the end of the book I still felt like there were several I barely knew. Meanwhile, the premise was totally crazy and unrealistic. Ignoring that, I kept reading and wanted to see how it ended… but this was disappointing for an author I normally love.
The Surfing Lesson, by Elin Hilderbrand: Cute short story, but I wish I had read it closer to its companion book.
2 stars:
The Royal Runaway, by Lindsay Emory: This was interesting enough for me to keep reading, but I found a lot of the mystery spy plot to be, frankly, confusing. This was a surprise given that this is supposed to be a light romance! I thought the characters fell rather flat, and I didn't buy the romance between Thea and Nick from the beginning. Overall, too farfetched.
Any book recommendations for me? Follow me here on Goodreads to keep up with what I'm reading in real time.