I haven't done a "what I read" post since January – oops! That's partially because I've been too busy to create this post, and partially because I haven't been reading enough to warrant it. So far this year, I'm up to 18 books read – which is 16 short of where I should be if I want to read 100 books this year. We'll see if it happens, but even if it doesn't, it's a good stretch goal to keep me going!
I'm finding that fictional page turners tend to be what I need to keep me opening a book at night, rather than catching up on blogs in my Feedly RSS reader. However, I'm starting a new project this week in Florida, and when I was working there before, I tended to be good about having solo dinners and reading during them – which helps me catch up a lot. I'm hoping that will be the case with this stint down there as well.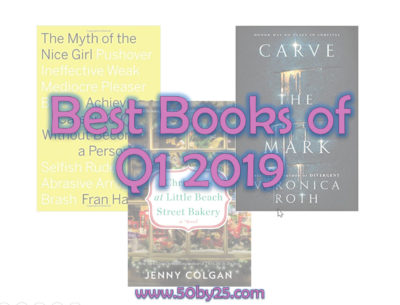 5 stars:
The Myth of the Nice Girl: Achieving a Career You Love Without Becoming a Person You Hate, by Fran Hauser: Loved this quick read that was full of great advice, interesting anecdotes, and practical / actionable tips for using "niceness" to get ahead rather than changing your personality. I read this for my office women's book club and am really looking forward to the discussion!
4 stars:
Christmas at Little Beach Street Bakery, by Jenny Colgan: Great to read another book in this series! I found myself annoyed with Kerensa for making a bad decision and not owning up to it, but otherwise enjoyed the book.
Carve the Mark, by Veronica Roth: I was excited to check out this new series, and it didn't disappoint, keeping me turning the pages eagerly to see what would happen. My only regret with Veronica Roth's books is the gratuitous violence – I end up skimming over the fights a bit as I don't want to read the gory details.
3 stars:
Becoming, by Michelle Obama: I found the first part of this book a little slower than I would have liked. Learning about Michelle's childhood was interesting, but somehow not quite compelling enough for me to be eagerly flipping the page. However, I found her perspective on campaigning and serving as First Lady to be incredibly compelling – it was fascinating to learn the inside scoop on what this is like. In all, I liked this, but didn't love it – and I found the ending frustrating with how much Michelle badmouthed Donald Trump rather than keeping it classy and focusing on her sadness at leaving the White House.
Amanda's Wedding, by Jenny Colgan: I was really excited for another Jenny Colgan book, but this was a bit of a disappointment. The main character was somewhat unlikeable in her selfishness, and the plot just wasn't as interesting as Colgan's other books, which have been slam dunks. Still not a bad read, but nowhere near the caliber of Colgan's other novels.
Waisted, by Randy Susan Meyers: While I thought the plot was unique and interesting, it dried up a bit after the women [escaped from the mansion (hide spoiler)]. The book seemed very intent on sharing a point-of-view on women and weight, rather than telling the story, which I found kind of annoying – with a good story, the POV would have come out more naturally and been easier to swallow. Overall, I thought it was a good concept, but not executed in a way that made it easy to keep reading.
2 stars:
Thanks A Thousand: A Gratitude Journey, by AJ Jacbos: I normally love AJ Jacobs, but found this really disappointing. His great sense of humor was missing, the book was extremely short rather than full-length, and the content fairly dry rather than interesting. What happened??
My Favorite Half-Night Stand, by Christina Lauren: The premise behind this was really dumb, and I found it frustrating how Millie had a pathological inability to be honest. However, I found myself still reading it because I wanted to see how it all worked out.
Any book recommendations for me? Follow me here on Goodreads to keep up with what I'm reading in real time.