Want to stay in bed longer? Here's what I've been loving, laughing at, and getting intrigued by all week long. Now cozy up with your laptop/tablet and enjoy 🙂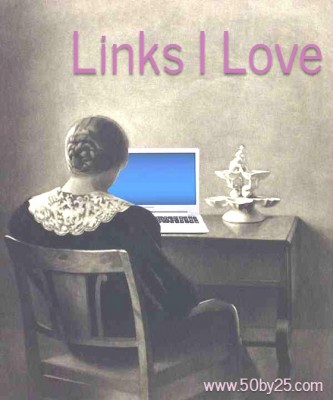 CAREER / BUSINESS
Five Questions To Ask Your Boss When They Offer To Help Your Career. (Forbes)
Student Debt Is Dragging A Whole Generation Down. (BuzzFeed)
Why Are Young People Pretending to Love Work?. (New York Times)
The #1 Leadership Lesson from a Sports Dynasty. (Friday Forward)
My (Imagined) Career And Life Coaching Session With Supreme Court Justice Ruth Bader Ginsburg. (Forbes)
How Much of Your Work Is Really Busywork? Six Ways to Tell, and What to Do About It. (Laura Stack)
What PwC Learned from Its Policy of Flexible Work for Everyone. (Harvard Business Journal)
Don't turn a blind eye to robot bias. (LinkedIn)
Amazon Pulls Out of Planned New York City Headquarters. (New York Times)
Women act more like men when they have to ask women for money. (Quartz)
The Impossibility of Being a Likeable Female Politician. (Harper's Bazaar)
Trump vs. Ocasio-Cortez: Who Will Win the Internet?. (New York Times)
Implicit Gender Bias in Startup Funding. (Feld Thoughts)
PRODUCTIVITY / SOCIAL PSYCHOLOGY
What Productivity Means: An Interview With Author Chris Bailey. (Zapier)
A 4.30am start and three-minute toilet breaks: are you ready for microscheduling?. (The Guardian)
This is the secret military technique to falling asleep in just two minutes. (The Independent)
These Are the Life Tips People Actually Use, According to Reddit. (Lifehacker)
There Are Two Kinds of People: "Sorry" People and "Thank You" People. (Man Repeller)
How Emotions Can Affect the Heart. (New York Times)
To Calm Down, Try 'Calming Up' Instead. (Medium)
HEALTH / FITNESS
Sleeping Less Than 6 Hours a Night Tied to Heart Disease. (New York Times)
Who are period-tracking apps really built for?. (Vox)
Cleanse Your Fitness Form. (Furthermore from Equinox)
Do The Movement Cleanse Workout. (Furthermore from Equinox)
How to hold a 3-minute plank like our forever Friend Jennifer Aniston. (Well & Good NYC)
Related: Should I be planking on my forearms or my hands? We asked Scarlett Johansson's trainers. (Well & Good NYC)
Intermittent Fasting Is Not a Miracle Weight Loss Tool. (Lifehacker)
TRAVEL
CES Report 2019. (Travel Insider)
Why Ben Smith Killed Joon Despite Loving a Similar Idea in His Last Job. (Cranky Flier)
Airline Group Turns to Blockchain to Bypass Entrenched Distribution Systems. (Skift)
Lion Air Jet's Cockpit Voice Recorder Found. (Skift)
Southwest Mulls New Fees to Generate Revenue Without Alienating Passengers. (Bloomberg)
How United Let It Slip That Apple Is Its Biggest Corporate Client. (Skift)
United's Focus on Revenue Gains Gives It an Edge Over Rivals. (Skift)
Virgin Atlantic's VP of Loyalty, Donna Orman, On Fostering Relationships and Strengthening the Brand. (Total Blue Sky)
Dubai Airports unveils new DXB brand in bid to be "world's best airport". (Future Travel Experience)
Personalization in Travel Marketing: Moving Beyond the Buzzword. (Skift)
Virgin Voyages Wants Cruisers to Pay a Premium (and Like It). (Skift)
California's Governor Drops Plans to Connect Los Angeles and San Francisco by High-Speed Rail. (Bloomberg)
The Key to Room Key: Who We Are & What Makes Us Different. (Room Key)
3 Things Online Travel Sites Don't Want You to Know. (Room Key)
Mountain for Rent: $4,500 a Day. (New York Times)
MISCELLANY
10 Cool Augmented-Reality Apps That You Might Actually Use. (New York Magazine)
Which Wifi Band Should I Use for My Devices?. (Lifehacker)
Why Internal Solutions Trump External Ones. (The Simple Dollar)
A reader told me I was wasting my life': what I learned after my money diary went viral. (The Guardian)
What to Ask Yourself Instead of 'Does This Spark Joy?'. (Lifehacker)
A pizzaiolo explains his 4 rules of pizza toppings. (Lifehacker)
The Long Lines for Women's Bathrooms Could Be Eliminated. Why Haven't They Been?. (The Atlantic)
To All the Moms I've Ignored Before. (New York Magazine)
How to Be a 'Gardener' Parent. (Lifehacker)
Prepare Your Kid for a Sibling With a Baby Doll. (Lifehacker)
Here's What Kids Really Need to Know Before Kindergarten. (Lifehacker)
Teach Kids Positivity by Celebrating the Little Things. (Lifehacker)
Does Encouraging Suicide Make You a Killer?. (New York Magazine) I hadn't heard of this case till now – so sad.
The very smallest thing 22 people do for self care. (Well & Good NYC)
Friends in 2019 // How They Afford the Apartment. (The Valorie Clark)
My Owner Will Be Back Soon. Don't Worry! Tesla Just Launched 'Dog Mode'. (Fortune Magazine)
---
Like this post? Want more fun articles in real time? Follow me on Twitter or become a Facebook fan to get similar stories all week long.