Want to stay in bed longer? Here's what I've been loving, laughing at, and getting intrigued by all week long. Now cozy up with your laptop/tablet and enjoy 🙂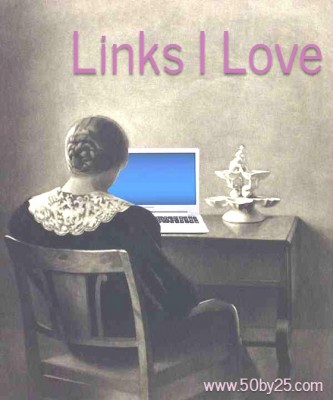 CAREER
How to Successfully Delegate Work to Someone Else.
"You're too nice to be an executive". (Patty Azzarello)(Lifehacker)
A genius little list of ideas to stop apologizing for your existence at work. (Quartz)
Female Employees Who Are the Only Woman at Work Are 50% More Likely to Consider Quitting. (Fortune Magazine)
Do Longer Maternity Leaves Hurt Women's Careers?. (Harvard Business Journal)
Facebook Is Letting Job Advertisers Target Only Men. (ProPublica)
Why 95.8% of Female Newscasters Have the Same Hair. (InStyle)
The Best Career Advice I've Ever Received. (Cup of Jo)
PRODUCTIVITY/SOCIAL PSYCHOLOGY
How to Write a More Effective To-Do List. (Shape Magazine)
2 Perfectionist Tips That Will Free Up Your Time, Brain, and Energy. (Yes and Yes)
How to Get 1% Better Every Day. (Heleo)
How to Stop Writing 'I'm Sorry' So Often in Emails. (Lifehacker)
This Is How To Quit Bad Habits Without Willpower: 3 Secrets From Research. (Barking Up the Wrong Tree)
How to solve complex problems (by not focusing on them). (Fast Company)
Being a Better Listener Is as Easy as This Conversation Trick. (PureWow)
Relationship hack: Why class clowns make better partners. (Big Think)
HEALTH/FITNESS
Should You Give Birth at a Birth Center?. (New York Times)
What you need to know about drinking kombucha when you're pregnant. (Well & Good NYC)
Are We Wired to Sit?. (New York Times)
What Every Marathon Runner Needs to Know the Week Before Race Day. (Well & Good NYC)
Runners Need Recovery Shoes. (Furthermore from Equinox)
Kids' Brainpower Tied to Exercise, Sleep and Limited Screen Time. (New York Times)
The Most Punishing Running Race You've Never Heard Of. (REI)
Caffeine May Increase Pain Tolerance. (New York Times)
A New World Marathon Record Almost Defies Description. (The Atlantic)
The best kept skin-care secret? Washing your face with sparkling water. (Well & Good NYC)
Which Kinds of Foods Make Us Fat?. (New York Times)
The Truth About Acai Bowls: Read this first!. (Nerd Fitness)
How to Break in Hiking Boots: 7 Simple Tips. (Cool of the Wild)
TRAVEL
Regulators Want Airlines and Manufacturers to Invest in Tech to Reduce Near Misses. (Skift)
Why Lufthansa Should Keep Its Catering Arm. (Skift)
Tickets for Kids Cost More Than for Adults on Some EasyJet Flights. (Skift)
Fares vs. fees: Here's how much U.S. airlines make from checked bags, changed flights. (Dallas Morning News)
Preferred Seating Fees are a Problem. (Cranky Flier)
American Airlines Admits It Needs to Do Better Upselling Passengers to Better Seats. (Skift)
American Airlines Makes Elite Status Harder For These Credit Card Holders. (Skift)
Tired of Being Stuffed in an Airplane Seat? Congress Is Trying to Help. (Skift)
Discount Airlines Take Frequent Flyer Programs More Seriously After Initial Snub. (Skift)
Yet Another Reminder on Why Airline Competition Is a Beautiful Thing. (Skift)
Dallas Love Field aims to win back drivers with new parking garage, lower prices. (Dallas Morning News)
The metasearch model, part 3: The complexity of multimodal. (Tnooz)
Hilton Debuts New Hostel-Inspired Brand, Motto. (Skift)
The Stereotyping of Millennials Has Gone Too Far. (Hotel News Now)
MISCELLANY
When They Go Low, We Go Hard': How Black Women Are Seizing This Political Moment. (Refinery29)
Editorial: We were wrong on Colorado Amendment 74. (Colorado Springs Gazette)
Climate Change and Our Uncertain Future. (Friday Forward)
The 11 Grossest Things You Use Every Single Day and Don't Know How to Clean. (Greatist)
You Don't Need Permission to Live Your Life. (Medium)
How Forlini's Survives the Instagram Horde. (New York Times)
The homebody economy, explained. (Vox)
How to Childproof Your House for Your Second Kid. (Lifehacker)
Why Is It That Some People Just Can't Dance?. (Greatist)
---
Like this post? Want more fun articles in real time? Follow me on Twitter or become a Facebook fan to get similar stories all week long.