Weekend recap a week behind… it's been a rough week! But I'll post last weekend's tonight, and hopefully will do this weekend's tomorrow. I want this documented for my own personal diary to look back on later 😉
Later this spring, I was planning on buying a condo in the mountains. (I'm no longer sure whether that's financially possible for me due to some major upsets this week, but we'll see.) To help me make a well-informed decision, I decided in December that I'd spend one weekend a month in the mountains – to see how much I like certain areas, try out different complexes, and, of course, get some good skiing in. This past weekend was my first weekend in the tour, and thanks to the recommendation of Heather, I was up in Avon for Beaver Creek Culinary Weekend.
I packed up on Thursday night, and then started on my morning calls at 6am. (Yup, that's my usual on Friday – hooray for working with lots of East Coasters!) At 9am, I had a call with one of my coachees, so I was able to use that time to step away from my computer and drive downtown to the office while catching up on the phone. And then after a whole bunch more meetings / work at the office, I was able to head for the mountains in the early afternoon!
We had no traffic at all on the drive, but were a bit dismayed to see that the mountains were not their usual snowy selves. So much brown everywhere! There was supposed to be some snow moving in Friday night, though, so we crossed our fingers and hoped for the best.
Upon arrival in Avon, we headed directly for the two bedroom condo we had rented to share with one of my best friends, Kelly, and her husband. Kelly was already there wrapping up her own work for the day, and I fired off a few more emails myself before we settled in to relax. And when Den got back from his own skiing / scouting expedition, it was time to really relax – the wine flowed!
I had brought the ingredients for this fabulous crock pot paella (one of my favorite crockpot recipes!), using chicken sausage and chicken breast as the meat to keep it on the lighter side. However, I hit a small snag when I went to put it together. I guess that when I used to make the recipe, I'd cut it in half – because I had way too much to fit in the small crockpot I had brought! Instead, I threw it all into a big pot on the stove, Googled some cooking time conversions (30 minutes instead of 2 hours), and hoped for the best.
The bottom of my paella ended up a little bit burned from sticking to the pot, but it was otherwise delicious, and we ended up noshing on the paella pretty much all weekend. (Throw some sunny side eggs on the plate and you've got a delicious breakfast!)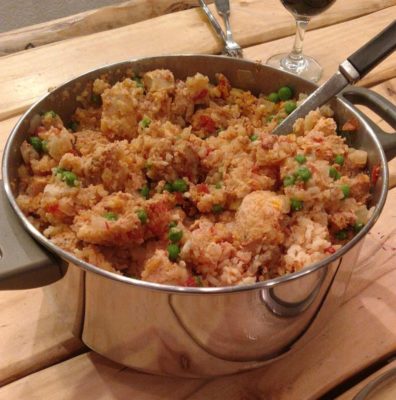 And just when the paella was about ready, Heather and her husband Kirk arrived… with even more wine, plus a delicious chocolate brownie dessert that I absolutely devoured. We hung out around the dining room table playing Codenames most of the night (my favorite board game, by far!), and it was a perfect first night in the mountains. More of this, please!
Unfortunately, the next morning, it became clear that I had said "more" just a little bit too much. While I'm no stranger to alcohol, I had miraculously never before had a hangover – but on Saturday, I woke up with a doozy of one. Even after a leisurely breakfast and some coffee, I found myself getting dizzy mid-morning from the act of bending over to put on / adjust my ski boots. And even more unfortunately, there was a lot of adjusting needed, because I could not for the life of me get my left boot to be comfortable.
When I first put my boots on, they felt okay – but after the first ride on the chair lift, my left foot had gone numb. No problem – I loosened all the buckles and took a run down the mountain. But my foot stayed numb throughout 🙁 After riding back up, I messed with them again, going so far as to take my foot out and put it back in. But halfway down the trail, my foot was again completely numb and I couldn't feel it. What the heck?! It was nearly impossible to dig an edge into the snow when I couldn't feel my foot, so I was finally persuaded to take a break and hit the lodge. And after sitting with my boot off for about 10 minutes – hallelujah, my foot was fine! I have no idea what was wrong, but I was just glad I was able to fix it.
The snow wasn't great, so we did only a few more runs before deciding it was time to make our way back across the mountain and head down the gondola for a nap and some hot tub time. I was finally feeling better and like a normal person, and I was psyched to relax in the hot tub and possibly even sip some champagne. (Maybe.) However, when I got back, I decided to immediately throw on my gym clothes and hit the fitness center. I've been trying to do a run streak in January where the minimum is two miles a day, so I told everyone that I'd be just 15 minutes behind them in getting to the hot tub.
Unfortunately, when I got to the treadmill – oof. At first I thought my 7:00 pace was too aggressive and it was just the altitude getting to me (Avon is at 7500 feet)… so I slowed my pace significantly. But once I had dropped to an 8:30 pace and was still struggling, I realized it was probably the effects of the night before still catching up with me. I ended up doing intervals of 90 seconds running / 30 seconds walking in order to make it through the two miles, and was proud I had even pushed myself to do that.
I slowly made my way back to our condo, but when I got back, I still felt no better – and I actually felt even more dizzy and out of it, to the point where I was worried about fainting. Everyone else had eaten while I was gone, and even though I wasn't hungry, I forced some paella down, which made me feel marginally better.
I desperately wanted to just sleep on the couch, but dragged myself down the hall to find… there was no hot tub! This particular complex had taken out their (indoor) hot tub and replaced it with a steam room, which everyone was disappointed by. It hadn't even occurred to us that a mountain condo wouldn't have a hot tub! 🙁
On the bright side, I had never before been in a steam room and… oh my gosh. It was glorious. Yes, it was hot and a little uncomfortable at times, but it was so restorative and made me feel like a million bucks by the time I left. Maybe instead of getting a mountain condo I spend (a lot) less and get a steam shower put into my bathroom at home for everyday use?? That was incredible!
And it was a good thing I was now feeling better, because it was time to get ready for one of the highlights of the weekend – the Grand Tasting event at the Park Hyatt! Kelly, Heather, and I got all dolled up in some cute cocktail dresses for the occasion (definitely not my normal mountain apparel), and when we called an Uber to get to the event, we stepped outside to discover it was snowing. That meant good skiing the next day! Things were definitely turning around.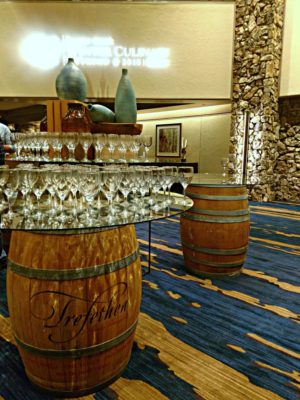 The event was fabulous. The room was ringed with more than two dozen chefs, each with a different signature item. And in the center, they had stations with beer, wine, and liquor producers / distributors from around the country. We got there about 15 minutes into the event, and I was pleasantly surprised to find that it wasn't super crowded. There were plenty of attendees, don't get me wrong, but it was nothing like my experiences at the New York Food & Wine Fest's Grand Tasting, where you had to wait in long lines for each booth. This was so relaxing in comparison!
Heather and her husband Kirk had already staked out a table for us to call home base, and we all alternated hanging out at the table with wandering around trying all the delicacies. I went around in order, so as not to miss anything, and by the time I had circled the room, I was stuffed! My original plan was to try everything and then go back for more of my favorites, but ~24 bites turned out to be more than enough, and I didn't even make it through all the desserts. I fell in love with an oyster dish in an incredibly buttery amazing broth, and did get seconds of that, but my other favorite dish was a creamy pasta that I knew I wouldn't be able to double up on. Next year: no eating all day prior to the festival!
Sunday morning I woke up thankfully hangover free, and while we didn't make it to first chair, we were on the mountain by 9am. Our little group expanded when a few more friends joined us for a day of skiing, and I was also thrilled that my boot wasn't bugging me anymore. However, my goggles were now acting up – thanks to an incorrect face guard placement, they were fogging up like crazy. I had to sit out a run to stop by the lodge and get them cleaned up, but I used the time to get in touch with American Airlines, who had already canceled my flight for the next day. You mean I can't get to work first thing Monday morning and will have to fly out Monday night instead? HOORAY – another morning of skiing!
With the snow still falling hard, we figured conditions would be great the next day, and staying an extra night would also mean we wouldn't have to brave the crazy traffic home on I-70. So we promptly booked a new hotel room for Sunday night, and were pleasantly surprised to discover just how cheap Sunday night hotel rooms are. The rest of Sunday's skiing had some decent powder, but the visibility was incredibly low due to the gray skies and still-falling snow. (I need to get some yellow/orange goggles to be better prepared for situations like this.) I was pretty happy to call it quits early afternoon and head for the hot tub at our new mountain home – The Osprey.
The Osprey is one of the most incredible resorts I have ever stayed at. It was ski-in ski-out right at the base of the Strawberry Express Lift – and when I say "right at the base", I mean it was about 10 feet from the door of the hotel to the actual chair. Incredible! But when we arrived Sunday afternoon, our focus was less on skiing and more on the hot tub – which was thoughtfully designed in the shape of an hourglass, so you could have one group on each side and not just all sit in one big circle where you're awkwardly stuck with each other. (Hope that makes sense.) We made the most of it, and it just felt incredible to be soaking in a hot tub while the snow was falling. After it got dark, we also got to enjoy watching the lights of the snowcats trawl the trails, grooming them for the next day. And the best part? The room rate was only $200 for the night – not exactly a cheap hotel, but a crazy bargain for this kind of luxurious experience.
To cap off the luxury, we went to dinner at Splendido, an upscale restaurant in Beaver Creek that had been featured the night before at the event. While I hadn't been overly impressed by the Splendido dish at the event (kampachi with shaved apple and celery, topped with jalapeno ice), the food at the restaurant was incredible – I was impressed by every single thing I tried. This was definitely on the pricey side, but I loved every bite! Highly, highly recommended.
And speaking of luxury… we woke up Monday morning, enjoyed a hearty (and delicious) buffet breakfast in the lobby, and then were able to walk out the door of The Osprey in our slippers, where a "ski valet" was available to help us into our boots and then send us off the ten feet to the lift. What service!!! I had never experienced anything like this before, and I really hope I'm not too spoiled now 🙂
The day was also beautiful – blue skies and sun to warm us up on the lift, and a decent amount of powder (at least for this unfortunately dry season) to make it fun on the way down. We stuck to the Strawberry Express Lift literally all morning, riding it again and again, but I was pleased to rack up over 12,000 vertical feet in the 2.5 hours I had to ski before heading back to Denver and the airport. That brings my total for the season so far to 49K – not a bad start to the year! I'm setting a goal of 100K by the end of the season, and I think that will be a sure thing given just how much I've gone (and loved it) in January.
While my weekend ended up being a bit longer than I expected, which threw off my schedule quite a bit, it was just the kind of getaway I needed to escape from all the stress of my townhouse being (literally and financially) underwater. Even though I live close enough to the mountains to day trip, it was really nice to escape and stay there, away from everything else. I'm looking forward to another mountain getaway soon, especially if I can round up another delightful crew like this one!