While some of my other goals may have slipped this month due to my vacation and illness, my reading game was on point! I read 13 books in April, and discovered a lot of truly excellent gems across a variety of genres.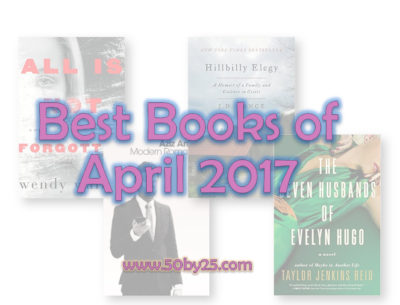 5 stars:
All Is Not Forgotten, by Wendy Walker – This novel was great- it kept me in suspense throughout, and I couldn't see how all the pieces were going to fit together until they finally did. I really enjoyed the writing as well, and the first person perspective told in hindsight made it really engaging.
Modern Romance, by Aziz Ansari – I was expecting this to be purely a humor biography, but it was a very well-researched social psychology book. Loved the insights, loved the humor mixed in, and would highly recommend it to anyone.
The Seven Husbands of Evelyn Hugo, by Taylor Jenkins Reid – I received an advance copy of this book, and am so thrilled I did so I can recommend it to everyone! I stayed up till the wee hours to read this in just two nights, because I just couldn't put it down, and I've been thinking back on the characters ever since. This book was fascinating, fast-paced, and thoroughly intriguing. I loved getting to see behind the scenes of old Hollywood, and the shifts between present day and the past were well done so as not to distract from the story. Typically when a book flips between past and present, I like one story better than the other and find myself skimming the one I don't like, but in this case, the stories were well-balanced so I didn't mind the flips at all. My only point of criticism would be that it wasn't quite as thought-provoking as Taylor Jenkins Reid's other novels… but that was more than made up for by how interesting the plot was. Highly recommend!
Hillbilly Elegy: A Memoir of a Family and Culture in Crisis, by J.D. Vance – This came highly recommended, and after the first chapter or so, I wasn't convinced. But wow, am I glad I stuck with it! The author does a great job blending his personal experiences with significant research, which is subtly woven in to support the narrative. I could definitely empathize with his efforts to fit in at Yale when he came from a completely different background, and the major transition he had in trying to learn the right etiquette to get through law firm interviews. This book provides a fascinating perspective on the Appalachian culture and how people develop the ideologies they do, and I would now highly recommend it myself.
4 stars:
32 Yolks, by Eric Ripert – I really enjoyed reading about how Ripert grew up, his journey to becoming one of the best chefs in the world, and the mistakes he made along the way. If you're a foodie, don't miss this book.
State of Wonder, by Ann Patchett – This was long, but fascinating. However, it was definitely rather stressful to read between the dangers and the sadness! A month later, I'm still having nightmares about snakes thanks to one gruesome part of the story. I'm glad I read this book and would recommend it, but it's not quite light reading 🙂
A Hope More Powerful Than the Sea, by Melissa Fleming – This story was so sad that it was hard to read at times. However, I also think that it's important to understand the experience of refugees, and therefore would recommend it to others.
The Best Of Us, by Sarah Pekkanen – Loved this novel! Every storyline was really interesting, and I cared about each of the main characters. So often when you have multiple main characters, some are more likable than others, but in this case I thought they were all fascinating and relatable.
Here's To Us, by Elin Hilderbrand – This had so many characters that at first it was really hard to keep them all straight… so kind of the pitfall that The Best Of Us managed to avoid. The book dragged for the first 1/3 or so, but then got really interesting (and I had all the characters straightened out in my head).
3 stars:
Tools of Titans, by Tim Ferriss – This book took me weeks to get through – "tome" is exactly the right word to describe it. Some parts were incredibly boring, but others were fascinating. Definitely hit or miss, and I have to say you'd probably be better off just listening to the podcast than slogging through this.
In Her Shoes, by Jennifer Weiner – Cute book that I ended up getting really into, but Maggie drove me nuts throughout and I was frustrated that Rose wouldn't stand up to her. I'd recommend it; it just didn't seem all that realistic to me.
Catching Air, by Sarah Pekkanen – This was a decent novel, but my least favorite of Pekkanen's books that I've read so far. I found myself really annoyed with how weak and ignorant Dawn was, and I thought it was similarly foolish of the other characters to deal with her as they did. In the end, it was an okay novel, but definitely not as good and thought-provoking as Pekkanen's others.
2 stars:
The Running Revolution, by Nicholas Romanov – Admittedly, I didn't do the exercises… but this book didn't really inspire me to want to learn how to adapt my running this way 🙁