When I first moved into my house, I made a huge list of all the improvements I want to make, and kicked off with a massively expensive project to have the walk-out basement refinished. I'm glad I created a fabulous space there, but with my bank account dwindling, I recognized that I probably needed to space out the never-ending list of other upgrades I wanted to make. I decided that I would tackle one major project / area per year… and this year, I'm focusing on the yard and outdoor space.
Two weeks ago, I had a consultation with a master gardener in my neighborhood. We spent about an hour walking around my yard and discussing things I like and dislike, while she took notes on the growing conditions around my yard. A few days later, she emailed me a really comprehensive document of what plants she'd recommend putting where, taking into account my preferences on colors, maintenance, etc. It was fabulous! And now I can buy/plant everything myself, which is a huge savings over having a landscaper come in to do everything. I really liked being able to get expert advice while still being able to do the work myself.
Last week, I did have a landscaper come in to get rid of an oddly-located stone pathway in the middle of my yard and fill it in with sod. I now have one continuous block of lawn that is easy to mow, rather than two small patches, and the sprinkler heads have all been adjusted accordingly. I love the new simplified layout!
The landscapers also ripped out all the bushes in the front of my house, in preparation for some major mudjacking I'm going to have professionally done later this month to fix the settling of my front steps.
With my focus on my yard, it was perfect timing that our neighborhood magazine, Rock Creek Living, sponsored an event last night called "How to Create an Outdoor Living Space." That is exactly what I'm looking to do! About 50 people gathered at one of my neighbor's homes for delicious food and drinks, while a consultant from Pottery Barn came in to give us tips on how exactly to decorate a great space. While some of the talk was admittedly sales-y for Pottery Barn (which I totally understand is their purpose in sponsoring events like this), I also picked up a lot of great advice that I think will be helpful no matter where I decide to purchase the furniture/accessories I need. Here's what I learned:
1. An outdoor rug can also help to define a space and make it feel like you're "outdoor living" rather than camping. Just remember that the Colorado sun fades fabric very fast, so be sure to get a fade-resistant fabric for rugs, as well as for seat cushions and umbrellas. Everyone raved about the "Sunbrella" fabric that Pottery Barn offers, and told me it was one of the things I should splurge on, even if I'm trying to save money on other things.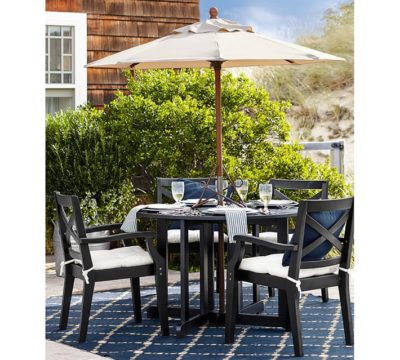 2. Lighting can add a lot of ambiance, as well as "define the space". Try putting lantern hooks on your fence posts, to extend the lighting around the yard. You may also want to consider flameless candles, which are not only safer, but also can be on timers so that they come on automatically at night – which adds atmosphere even when you're not throwing a party!
3. If you're using lanterns that sit on the floor, place them (and other decorative objects) in groups of 3 or 5, as groupings of odd numbers are aesthetically pleasing. I can take this tip inside, too!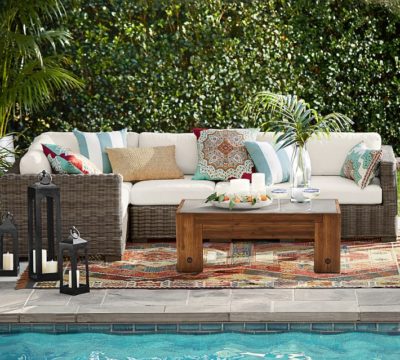 4. Pots of flowers help to liven up a space. With the crazy winds in our neighborhood, though, be sure to choose cement planters so that your plants don't go flying!
5. For plants and outdoor accessories, shop early. In Colorado, we can get snow even in May and June… but if you wait till the snow is gone to buy, the stores will be empty. Shop earlier than the season and store your findings rather than waiting to buy. The gardener I consulted with had similar advice, and told me to be sure to buy everything before Mother's Day or it would be all picked over. I don't love the idea of buying things at full price rather than on sale, but you can't really buy end-of-season with plants and store them for a year the way you can with decor 🙂
6. If you are using drink dispensers (which are great for summer punches / cocktails), adding a stand underneath them allows you to place them anywhere on a table rather than just on the edge. And stands don't have to be expensive or complicated – just get a cake stand of the appropriate size with a bit of a lip. I'm going to start scouring thrift stores in my area for these, as I have three drink dispensers thanks to generous friends who've given them to me as hostess gifts.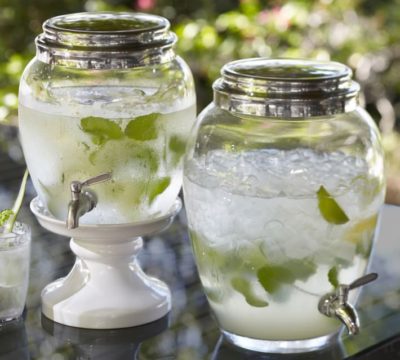 7. Finally, rather than only decorating your backyard, try creating a space at the front of your house too – perhaps a porch, or even a specially built patio on a corner of your front lawn. Most people gravitate toward entertaining in the backyard, but there's no reason you can't also entertain in the front yard and get to meet those neighbors too. And I love meeting neighbors! I think my yard is unfortunately too small to really take action on this tip, compared to some of my friends with larger homes/yards, but I'd like to put a glass storm door in this year so that my home can look more inviting/open when I'm hosting a party.
The event last night also got me inspired to browse the around the web for more ideas. I found this slideshow from HGTV to be really inspiring – I love the bright blues and greens, and I have the Ikea chairs pictured in slide 13, so I'm now definitely looking to get some seat cushions to turn them into outdoor chairs. It would be pretty easy for me to store them in my basement closet and put them outside whenever needed for a party. I also love the planters mounted on the railing, and the L-shaped sectional… though I don't think my deck is quite big enough for something like that.
I also liked this slideshow from Better Homes and Gardens, particularly the photo on slide 2 with the tip to move the outdoor furniture to the perimeter. Right now I think a big part of why my (fairly small) deck feels crowded is because I have a massive coffee table smack in the middle of it.
I like the Better Homes and Gardens design of small pieces of furniture all around the edges instead. The piece makes a great point that you don't need to have one big space for entertaining, and that it can instead be effective to have smaller groupings sprinkled around the yard / deck. I think that's what will probably work best for my space.
So… onto the shopping? I'll be scouring Craigslist for sure!