Want to stay in bed longer? Here's what I've been loving, laughing at, and getting intrigued by all week long. Now cozy up with your laptop/tablet and enjoy 🙂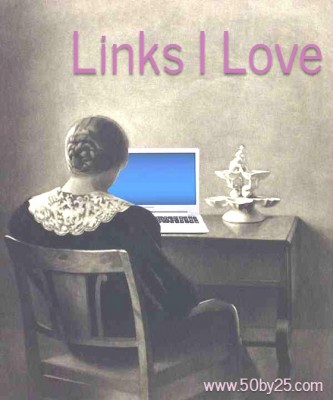 CAREER
Four Ways to Avoid Complacency: NEVER Hit Pause on Your Career. (Laura Stack)
Managing Negative Client Feedback. (Nubby Twiglet)
Meet Kendra Scott, Homemade Millionaire. (Success Magazine)
Running a business with boobs: the things I never say. (Medium)
Why we should kill the 40-hour work week. (Crew Blog)
PRODUCTIVITY/SOCIAL PSYCHOLOGY
12 Strategies for Maintaining Focus While Working at Home. (The Simple Dollar)
15 Lifehacks That Are Making My Life Easier + More Awesome. (Yes and Yes)
The Rise of the Monk Mode Morning. (Cal Newport)
Why You Should Let (Little) Bad Things Happen. (Time Management Ninja)
According To Harvard Psychologists: Parents Who Raise "Good" Kids Do These 5 Things. ( Curious Minds Magazine )
HEALTH/FITNESS
What Running 700 Miles in One Year Taught Me About Business. (Medium)
This is how many steps to take a day to keep your metabolism balanced. (Well & Good NYC)
Get Up and Move. It May Make You Happier.. (New York Times)
Similar: 6 Convincing Reasons to Start Working Out Immediately. (Greatist)
Well-Being is a Skill (Not a State of Mind). (My Fitness Pal)
Anheuser-Busch's Alexa skill lists workouts that burn off a beer. (Engadget)
Hilarious: 34 Easy Ways To Lose Weight Fast. (BuzzFeed)
Men, Is Exercise Putting a Damper on Your Sex Life? (New York Times)
Does Grounding Really Work?. (Bulletproof Nutrition)
Bad Hospital Design Is Making Us Sicker. (New York Times)
Study: 28-Hour Shifts Take a Toll on First-Year Doctors. (Van Winkle's)
TRAVEL
6 Takeaways From Marriott Investor Day. (Skift)
There's a Reason Airplanes Still Have Ashtrays. (Thrillist)
What if flight hacking goes mainstream? (Tnooz)
Snake left behind on flight in Alaska. Yikes – real snakes on a plane! (Fox News)
Several articles on the Alaska/Virgin branding announcement: Alaska Sticks With Its Own Brand But Learns a Little From Virgin America Before Killing It (Cranky Flier), Alaska Airlines and Virgin America reveal future vision for combined carrier (Future Travel Experience), and Alaska Airlines To Drop Virgin America Brand by 2019 (Skift).
The amazing flying machines of Chinese farmers. (BBC World)
SpaceX Tourists Will Face Physical and Mental Challenges in Trip Around the Moon. (Skift)
These Scientists Sent a Rocket to Mars for Less Than It Cost to Make "The Martian". (Backchannel)
These 10 U.S. Airports Challenge Pilots Most. (Skift)
British Airways Using Facial Recognition to Speed Boarding Process. (Skift)
I read a lot about the new electronics ban this week, trying to identify both the cause and how likely it is to cause further disruption in the industry. Here are some of the best/most informative pieces: Decoding the True Meaning of the Middle East Laptop Ban (Skift), Emirates Will Let Travelers Keep Electronic Devices Until Boarding (Skift), The Idiocy of the New Electronics Ban (Travel Insider), Will Travelers Reroute Trips to Avoid Laptop and Tablet Ban? (Skift), and U.S. Raid in Yemen Led to Laptop Ban on Flights, Officials Say (Daily Beast).
For those who think that they can't expand the electronics ban to all flights, remember when you thought they couldn't ban shampoo from carryons? But there's some good news on that front: European Airports May Ease Restrictions on Carry-on Liquids. (Skift)
U.S. Airlines Push Back Against Proposed TSA Fee Hike. (Skift)
If you travel by air, you'll want to know about these proposals tucked into Trump's budget. (Dallas Morning News)
Autonomous vehicles, mapping and multi-modal transport were key themes for travel at CeBIT. (Tnooz)
Coral Reefs Threatened as Global Bleaching Intensifies. (Skift)
MISCELLANY
Do You Really Need a $425 Rain Jacket? I've been talking to a lot of friends lately about figuring out what level is "enough" for me, across outdoor gear, purses, house improvements, and other things. This comparison was really interesting. (Outside Magazine)
Similar: This Is How Much You Should Spend on a New Range. (The Kitchn)
De-Stink Your Home. (Brightnest)
Visiting McDonald's With My Grandmother. Growing up, my dad used to take me to McDonalds before preschool and we'd share a Big Breakfast as a special treat, so this article made me smile and reminisce. (New York Times)
Canadians Adopted Refugee Families for a Year. Then Came 'Month 13.'. (New York Times)
Finally, for a laugh: 100 '90s Kids Memes That Are Just A Huge And Hilarious Trip Down Memory Lane. (BuzzFeed)
---
Like this post? Want more fun articles in real time? Follow me on Twitter or become a Facebook fan to get similar stories all week long.