What a fun weekend! This time I got three full days in Colorado, and it was glorious 🙂 I tried to maximize my time by scheduling lots of fun stuff with friends, and while a few things didn't go as planned, I largely made the most of it.
The highlight of the weekend, though, was definitely the Mardi Gras party I threw on Saturday night (Party Gras). I love any excuse for a theme party, and this month I was torn between Mardi Gras or Oscars. But since I'm not a huge fan of the Oscars, I decided to go New Orleans-style instead. Probably a good thing, since the Oscars ended up being a bit of a mess for the audit side of my company. #EnvelopeGate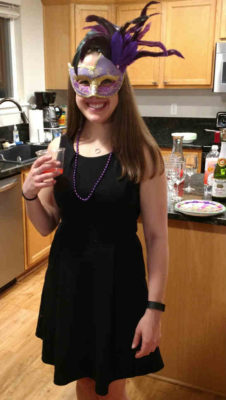 I had never thrown a Mardi Gras party before, which meant that I got to do all the menu planning from scratch. That's my favorite part of planning a party – picking out lots of fun themed food/drinks and then getting to spend a few hours cooking it all up before my guests arrive! (Least favorite part: dealing with RSVPs and trying to get people to actually commit rather than answer maybe or decide day of.) I made the desserts early in the day (only took about 15 minutes of active cooking time) and did the rest in the late afternoon, and it only took an hour to get everything ready! I was pretty psyched how easily it all came together, and even more psyched when people went out of their way to compliment the food and ask for the recipes. This menu is a winner!
Healthy red pepper crab dip, from Lively Table. This was one of the best crab dips I've ever had, and I was really happy with how light it was thanks to a mix of low-fat sour crema and Greek yogurt. I added some panko breadcrumbs to the top for extra crunch, and the bowl was scraped clean by the end of the night!
Cajun corn maque choux, from My Recipes. This was incredibly simple, but really delicious when served in a bowl with the rice and jambalaya. I skipped the sausage, since I already had sausage in the jambalaya, and was worried that it would lack flavor as a result. Not so! The flavors of the veggies were more than enough.
Everything jambalaya, from Food Network. Rachael Ray's original thirty minute meals are always winners – they're quick and easy, but full of flavor. I didn't quite go with "everything" for my own version, but lightened it up to just chicken sausage and shrimp. I also ditched the oil/butter and just tossed my chopped chicken sausage into a nonstick pan – it released plenty of juices to help it cook without sticking. The flour helped thicken this up nicely, but if you want your jambalaya really thick you can cook it ahead and chill it in the fridge, then reheat. The leftovers I had the next day were practically ribollita-thick!
Red beans and rice, from Heartily Homemade. I was considering cheating and getting Zatarain's Red Beans & Rice for an easy side to go with the jambalaya, but then decided to look up a copycat to their formula. This was perfect! I actually dumped all the measured ingredients in a bowl a few hours ahead of time, so that I could start the rice exactly 20 minutes before guests would arrive without having to run around measuring at that point. I used canned kidney beans rather than dried beans, and fresh bell peppers/onion rather than dehydrated. And since I generally don't buy pre-mixed seasoning mixes, I found this cajun seasoning recipe, realized that most of the spices were already present, and so just added some dried thyme to the main red beans and rice recipe. Easy! And really delicious, with the jambalaya on top. My rice did come out a bit overcooked/sticky, but I'm not positive that was the recipe vs just the fact that it sat for a while before everyone started eating.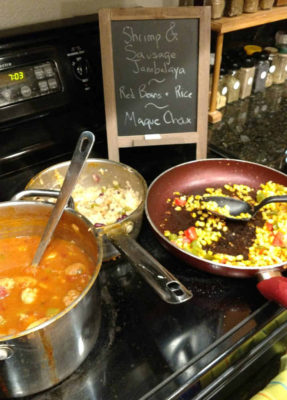 For dessert: super easy Mardi Gras king cake, from All Recipes. This is totally a cheat of a recipe, and I felt guilty serving something pre-made like this, but I'm not a big fan of king cake anyway and was only including it on the menu because I felt like I had to for Mardi Gras. I followed the recipe for the cake itself, but the dough came out way overcooked – perhaps because the package said cook for 25-30 minutes and this recipe had me cook it for 50 minutes? Not so great. Next year I'll suck it up and make a proper king cake – serves me right for trying to get away with crappy pre-made stuff.
My other dessert was much better: a copycat recipe of Magnolia Bakery's Famous Banana Pudding, from The Girl Who Ate Everything. It was also semi-homemade in that it involved vanilla pudding mix rather than making the pudding from scratch, but I made up for that by substituting crushed homemade shortbread for the Nilla wafers. And it was delicious! I lightened it up by using just plain 2% milk rather than condensed milk, but letting it sit in the fridge for a few hours made it still taste really rich and banana-y. (It was even better the next day, so I'd advise making this a day ahead if you can. The bananas won't brown if they're in the pudding rather than on top.) And as a bonus, it was really fun to layer this all together!
And finally, to drink, I mixed this classic hurricane punch, from New Orleans Online. Oooh boy – this is a strong one! I ended up halving the alcohol per serving, but it was still really strong, to the point where I felt the need to warn guests before they poured a glass. Maybe I'm just not used to mixed drinks, since lately I drink mostly beer or wine? This was really tasty but I have to admit that I'm looking forward to being a bit less tipsy at my next party, for St. Patrick's Day 🙂
All in all, the party was a huge success. I had a bunch of neighbors come over whom I hadn't met before, as well as my usual crew of friends. I love getting people together, and I'm looking forward to turning Party Gras into an annual tradition.