I did it! This last week, I hit my step goal six out of seven days (and I made up for it on the other days), so I ended the week with a total of 110,749 steps – that's 10,749 steps over my goal of 100k! I definitely stepped my game up this week (ha, pun intended), and while some of it was kind of tedious, there were also a lot of small changes that I'd like to continue even after my March step challenge is done.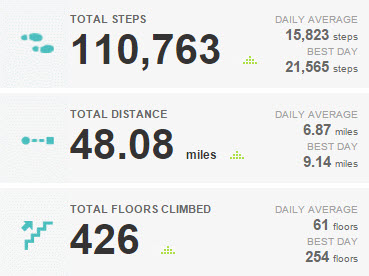 First, let's start with the low points of the week. Some days I ended up sitting at my desk most of the day, barely getting off my butt, and then I had a lot of steps to make up at night. Wednesday was particularly terrible – I kicked butt in workouts on Monday and Tuesday, which left me so tired on Wednesday morning that I didn't work out at all. I felt like a slug all day and barely got any steps in, and so that night I got back to my hotel with a step count of only about 7,000. That meant I needed to walk about four miles before bedtime if I wanted to hit my goal!
So I grabbed my bluetooth headphones and my phone, then headed down to the second floor of my hotel, which connects to a huge convention center. If I did a giant circuit from one corner of the hotel to the corner of the convention center and then back, I covered about 800 steps per circuit. So, 10 circuits later I finally had the steps I needed! It was kind of peaceful just getting to zone out and listen to podcasts (I mostly listened to The Jillian Michaels Show and The Chalene Show), but the scenery of the various hotel hallways was really boring. On the bright side, after a long day at the office, walking around to get steps in isn't nearly as daunting as the idea of running, so this is a fairly sustainable option.
As far as the good parts of the week, I tried to set mini goals for myself throughout the day, and that helped a lot with reaching my goal. I generally tried to hit 5,000 steps by lunchtime, 10,000 steps by 5pm, and 13,000 steps before I left the office. If I was behind on those mini-goals, I would do things like head for a bathroom on the opposite side of the building, or do my brainstorming/project planning while walking around the office. Sometimes if I knew I had ten minutes before a meeting and there wasn't anything quick I could knock out, I'd go for a walk to clear my head, and I feel like that actually made me more productive and focused in meetings! I was pretty pumped to see myself hit my step goals while also getting a lot of quality work done.
After managing to hit my step goals during the work week, I was pretty worried about how I'd do on the weekend. My plans to go skiing on Saturday fell through, and I figured that my step goal would be doomed as a result. Often when I stay at home all day, I barely even hit 5,000 steps! But, shockingly enough, the solution isn't a bigger house. (Um, my house is already far too big for me, and I know it.) Instead, it's walking and talking.
On Saturday, I had plans to catch up on the phone with my friend Samira in New York, so I grabbed my bluetooth headset and threw on some sneakers before heading out the door. We ended up talking on the phone for 45 minutes while I walked around my neighborhood – and since I had gone straight out in one direction rather than going in circles, that meant I had about a 45 minute walk back, too. It was a gorgeous day and I had a lot of fun checking out some different streets/trails I hadn't yet explored (plus an open house on the north side of my neighborhood), plus of course listening to more podcasts and learning a lot. I need to walk around my neighborhood more often!
Finally, I rounded the weekend out on Sunday with a late afternoon hike. When my morning errands took too long for me to meet up with a group to hike Bear Peak after church, I about called it quits. I'm so used to the summer afternoon storms that starting a hike after 11am didn't register as a possibility, and I figured I'd need to repeat my neighborhood walk to get my steps in. (Not that I don't love my neighborhood, but I didn't want to do the same thing two days in a row.) However, instead of overthinking it, I just got my butt out the door and headed for the mountains. In part because of daylight savings, going out for a hike of Green Mountain at 2pm was actually fine, and the trail was a lot less crowded than I've ever seen it!
I put about 15,000 steps in on that hike alone, and ended the day with my highest step count of the week: 21,551 steps! (And 8.41 miles and 245 floors.) Springtime in Colorado is definitely going to be good for my step count 🙂
So now let's see if I can break 100,000 steps for a second week in a row? (And maybe even break last week's 110k total?) I'm at 15,300 steps today, so I'm off to a good start!