This has been a pretty crappy week! I kept thinking it would get better, but… nope 🙁
First, it was a very busy week for me travel-wise. I flew to Albany on Sunday to visit my parents and brother, then drove with my mom on Monday from there to Ithaca. Oh, yes, it's recruiting season again! I'm my school's lead for management consulting at my company, which means it falls to me to lead the resume reviews and then either host or delegate the info sessions, receptions, and interviews we do on campus. This time around, I was able to attend myself, and it was a treat to go back to school for a day.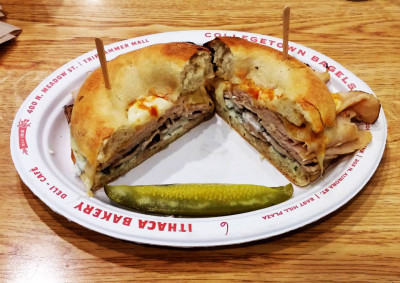 However, mired in all this was a lot of travel difficulty. First, I had to change my initial travel plans at the last minute after a trip leading up to it fell through (mostly my fault, but let's call that change #1). Then, the week started shifting around and I was told that they didn't need me in New York on Friday, so I canceled those flights… only to be told three hours later that plans had changed again and I was very much needed. Cue change #2, where I rebooked the exact flights I had already booked a month ago, albeit now at six times the price.
A few hours later on Tuesday night (when I was supposed to be leaving Ithaca), my taxi that was "five minutes away, I promise!" actually took 45 minutes to arrive… and I missed my flight. Which was also the last flight on American Airlines out of Ithaca until the next morning. I was incredibly frustrated, especially since I had missed it by less than a minute), but the wonderful American rep was kind enough to rebook me on United's last flight of the night out to Newark instead (change #3). There would be no flights to Dallas leaving Newark late enough for me to make the connection, but at least I'd be one stop closer in the morning.
But when we arrived in Newark, I discovered that the last flight to Dallas was actually two hours delayed. Those passengers' loss was my gain! After heading to the gate and getting myself rebooked (change #4) on that evening's flight, I then spent a while on the phone with various hotels. See, I had canceled my hotel in Dallas, and booked a hotel in Newark… but the Newark hotel was nonrefundable and the Dallas hotel was now unequivocally sold out. After a few panicked hours of thinking I'd be sleeping in my car in Dallas, I finally was saved by someone at the SPG Platinum desk who was able to snag me a room at the brand new Westin Dallas Downtown, which literally just opened a few weeks ago. Amazing!
After a long day at work on Wednesday (followed by checking back into my original hotel for that night), Thursday I worked my butt off all day and then headed back to the airport once again. Nope, not going home yet – it was time to head back to the East Coast for a day of interviews in New York on Friday! My flight was 30 minutes delayed, but compared to everything else, that was the best flight of my week.
It was in the middle of my interviews on Friday that I got an urgent message from United Airlines: my flight home was canceled due to the snow. They offered to let me select my rebooking option (change #5), and when offered this nonstop itinerary I took it… even though it seemed strange that  "nonstop" would be that long just going from New York to Denver. However, I didn't have time to research it too thoroughly in between interviews, so I accepted it and figured I'd take a closer look later.

Well, it turns out that the "total" hours on that was accurate, and it was the nonstop status that was not. After wrapping up my last interview of the day, I logged onto United.com to check in… and discovered that in fact, it was connecting through O'Hare. Furthermore, the first leg was already delayed to 4:10pm (from a planned departure time of 3pm), so I would miss my connection in Chicago, making it pointless to even try to get on that flight. ARGH!
I spent the next hour on the phone with alternately AmEx Travel (my company's travel agent) and United. Each swore they couldn't see what was in the other's system, and even when they talked to each other, they were confused. United said they had saved a seat for me on the 3pm out of Newark, but needed AmEx to ticket it. AmEx said the 3pm out of Newark was full, and that they were putting me on the 9pm nonstop out of LaGuardia. All I knew was that United promised me there was a seat saved for me in Newark… so finally, I jumped into a cab bound for New Jersey, even though I didn't have a ticket to my name.
At this point, it was an hour before the flight was scheduled to take off. It was a bold move to head to Newark, but both agents had told me that if I could get to a ticket counter, the agent there could ticket me live. Plus, I saw that the flight was delayed 30 minutes because of a late inbound aircraft! I had a chance. Upon arriving at the airport, I immediately headed to the ticket counter, and explained myself to the wonderful United agent working. She had a lot of trouble and required all kinds of supervisor approval, sinc it was less than 30 minutes to *scheduled* take off, and the flight was oversold. But eventually I got a ticket (6th change) and headed up through security to the gate.
My flight wasn't uneventful – I had a weird stress episode where I couldn't comprehend the meaning of written words for about 30 minutes (probably from lack of sufficient sleep this night), and so I slept the last hour of the flight since I couldn't get any work done. But I made it home mid-evening, which was a lot better than expected. Hooray!
However, just when I thought my problems were all solved… this morning, I went to check in for my flight tomorrow to Dallas, and saw that American was giving me errors, saying they couldn't find my itinerary. After some research, I discovered that United thought I was still on the 9pm flight from LaGuardia to Denver, and since I no-showed that (being already back in Denver after taking the earlier flight from Newark), they somehow canceled my next leg on Sunday, even though it was on American. Cue 7th change this week for me to rebook my flight to work tomorrow!

Moral of the story: always maintain airline status at any cost (United actually helped me out on Friday even though I have no status there, but I know American would have never bought me the United ticket from Ithaca on Tuesday without it), think through what to say to customer service agents to clearly explain your situation, and always try to be patient. Not really much of a lesson, but I'm trying to look at as one so I don't cry! And for now, I am just grateful to (finally) be home.