I have received information from the makers of TYLENOL®. The opinions stated are my own. This is a sponsored post.
This post is coming to you from in flight, surprisingly enough. Saturday is usually the least-traveled day of the week, and Saturday afternoon is really the quietest time of all for flights, since most people don't want to break up their weekend (or their day). But this weekend, I am splitting my time between Arizona (for Adam's son's birthday) and Colorado (for skiing and general homemaking before I head back to Dallas).
Adam's son had a really awesome birthday party on Friday night, which was camping-themed. Adam's ex-wife did a truly amazing job putting together a totally Pinterest-worthy occasion, from decorations to themed snacks and games, and I was really impressed. (Favorite part: she dipped pretzel sticks in white chocolate and then added orange sprinkles to the tips to make "matches". They were both delicious and totally adorable!) It definitely made me give some thought to the holiday party that I'll be throwing at my house in a few weeks; I really hope that I can do a similarly great job.
The holiday season is definitely in full swing now that it's December, and so Adam and I spent a lot of our hike this morning talking about our plans. His entire family is coming to Arizona for the holidays, and we want to plan some fun activities as well as some nice restful downtime! I was lucky enough to have my mom come visit Colorado for Thanksgiving, but otherwise I won't see my own family for the rest of the holiday season, and so it got me thinking about how non-traditional I am with my holidays these days.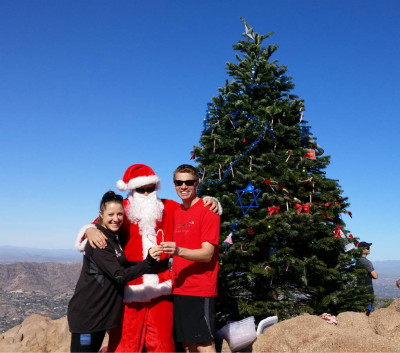 For Thanksgiving, I sometimes have family with me, but whether I do or don't, I always invite my friends who aren't going home to family to share the dinner with me. With friends being "the family that you choose", I love getting to share my dinner and my gratitude with them on a day of thankfulness. Meanwhile, last year I was unable to spend Christmas with any members of my family (and was nursing my zombie arm besides), so I was really grateful that my friend Kelly invited me to share Christmas dinner with her family – and even drove me to and from her house! I couldn't ask for better "family" than my wonderful friends and Adam, and so while it may be "non-traditional", I'm looking forward to sharing Christmas with Adam and his family this year.
In the spirit of non-traditional, Tylenol has launched a new marketing campaign called How We Family, which emphasizes that family is not about who you love, but how. I really love that idea, which celebrates all families no matter what the makeup. My own family has always been rather complicated, and growing up I was always fairly ashamed of how "weird" we were, so I love that Tylenol is pointing out that you don't have to be picture-perfect in order to still qualify as family.
The Tylenol How We Family program showcases the story of 11 real American families, including one from spokesperson Gabrielle Union. You can watch their short video compilation of real holiday moments from real families, which showcases joy, laughter, surprise, and unconditional love. I fully admit that I am a sap for a lot of holiday commercials, but this one really got the tears going for me!
Thank you so much to Tylenol for putting together an ad campaign that focuses not on presents, but the true joy of the season: being with those you love.
Disclaimer: This post was sponsored by Tylenol and I received compensation for posting; however, all opinions and words here are my own, and I genuinely wanted to share this beautiful video with all of you. Happy holidays!