I participated in an Influencer Activation on behalf of Influence Central for Folgers. I received product samples to facilitate my review and a promotional item to thank me for my participation.
Lately, I haven't really been getting a good night's sleep very often. I can't blame Daylight Savings Time, because it started before that, but twice in the last week I've woken up at 2am and been unable to get back to bed. Yuck! So in the morning, I am definitely making sure I have a cup of coffee to start my day. The good thing is, since I frequently have decaf, one cup is all it takes to get me going! However, I want that cup to taste good – so I was really excited when Folgers reached out to offer samples of a new product.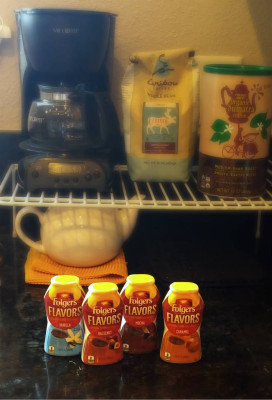 Folgers Flavors is a new product that can be added to regular coffee for a bit of flavor. It's kind of like flavored creamer without the cream – which is great because it means I can use real milk rather than the super-chemical kind. (To be clear, Folgers Flavors is not made with all-natural ingredients, but I only have to use a few drops of it to get a big burst of flavor… so I think it's a better substitute than using several tablespoons of typical flavored creamer.)
On that front, I should note that Folgers Flavors is highly concentrated – a little bit goes a very long way! Although you can squeeze the flavor directly into your coffee, I preferred to use a teaspoon to measure it out. For me, about 1/4 tsp (half the suggested serving size) was plenty; any more than that and it was too much flavor/sweetness for my taste.
Since Folgers Flavors don't require refrigeration, I really like them for travel – they are small enough to easily toss in my TSA-approved ziplock bag and bring on the plane, so I don't have to buy multiple bottles for all the different places I "live" (Dallas four days a week, and Boulder/Phoenix alternating weekends). That also meant I could easily share my Folgers Flavors with Adam – who is a coffee fiend and basically stumbles to the Keurig as soon as he wakes up. (After reading this interesting article on how coffee affects productivity, I'm now a little worried he's an addict.) But regardless of our coffee addiction status, both of us got to try out all four different Folgers Flavors: hazelnut, vanilla, mocha, and caramel. Adam's favorite was the caramel; mine was the hazelnut.
To satisfy my musical theater side, I was excited to see that Folgers engaged YouTube sensation Mike Tompkins to put his own unique spin on the Folgers jingle and created an a cappella Folgers remix. Check it out:
Finally, if you're interested in trying Folgers Flavors yourself, they've been generous enough to offer two samples for one lucky reader!
To enter, leave a comment telling me which flavor sounds the best to you, and log that in the Rafflecopter widget below (if you're reading this in Feedly/Bloglovin'/email, you'll need to click through to enter). The contest will run through Wednesday November 11 at 11:59pm MT, at which time a winner will be chosen by random drawing and contacted by email.
Thank you to Folgers for the opportunity to try this new fun product!
Note: Folgers provided me with product samples and a promotional item in exchange for this post. However, all opinions expressed in this review are honestly my own 🙂