My apologies for the delay in getting this week's links posted – had some technical difficulties with my laptop that are fortunately now all fixed! But to catch you up, here's what I've been loving, laughing at, and getting intrigued by all last week: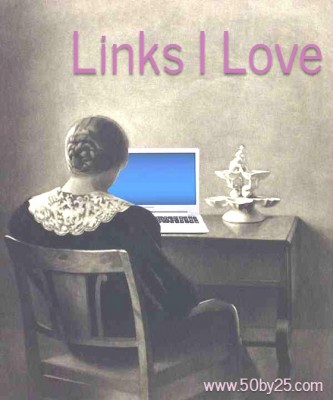 CAREER
5 Real-Life Salary Negotiations (And What You Can Learn From Them). (99U)
How to handle public questions you don't know the answer to. (David Jaxon)
Five Words To Remove From Your Email Vocab. (Ivanka Trump)
The Best (and Worst) Ways to End an Email. (Levo League)
Don't delegate that! 3 tasks managers should never pass off. (HR Morning)
Where You Fit: Understanding Your Role on the Team. (Laura Stack)
Sometimes Distrust Makes Teams More Effective. (Harvard Business Journal)
What We've Sacrificed for Our Careers. (Daily Worth)
6 Tips for Going from a Red-Eye to a Meeting. (Ivanka Trump)
The Reasons We Work. (Farnam Street)
PRODUCTIVITY/SOCIAL PSYCHOLOGY
7 Ways to Avoid Interruptions at Work. (Time Management Ninja)
Stuffy offices can halve cognitive scores. (Ars Technica)
Are You an Outsider Trying To Change A Broken System?. (Farnam Street
Sarah Silverman Opens Up About Her Battle With Depression and Her Gutsiest Career Move Yet. (Glamour)
How Friendships Change When You Become an Adult. (The Atlantic)
This Is The #1 Mistake Parents Make When Arguing With Kids. (Barking Up the Wrong Tree)
Chris Spear's answer to How do restaurants use psychology to manipulate our spending and eating habits? (Quora)
My dream is to wash dishes for a living. (A Life of Productivity)
Forget focusing on goals: To get healthy and fit, focus on this instead. (Run Lift Yoga)
HEALTH/FITNESS
How 7 Super Successful Women Leaders Find The Time to Take Care of Their Health. (SELF Magazine)
Do We Really Need to Sleep 7 Hours a Night?. (New York Times)
Running With Your Brain: How Deena Kastor Saved My Race. (Rock Creek Runner)
How to Run a Marathon: Raceday Rules. (Rock N Roll Marathons)
A Placebo Can Make You Run Faster. (New York Times)
Should You Run With a Cold (Or Other Illness)?. (Run to the Finish)
13 Ways to Make Your Walk More Nutritious. (Katy Says)
How Posture Affects Your Health & 5 Tips on How to Fix it. (Fitfluential)
How You Can Undo The Damage From Sitting With These 23 Exercises. (Air Awear)
The 7 Day Stairs Challenge. (Deep Existence)
Which Should You Do First: Cardio Or Strength Training?. (Greatist)
Create Your Own HIIT Workouts. (Fitfluential)
Why Girls' Night Out Is Great for Your Health. (Shape Magazine)
What's Happening in Your Brain and Body as You Listen to Music. (Yahoo Health)
Fighting New Diseases by Giving Them Blander Labels. (New York Times)
TRAVEL
Frustrating your customers is a revenue risk you need to overcome. (Tnooz)
American gives travelers more 'hold' options when booking a ticket on AA.com — for a fee. (Dallas Morning News)
Details Leak on a New American Airlines Loyalty Program. (Skift)
Understanding How American Airlines Sets Pricing. (Cranky Flier)
The Merger Madness in Travel Will Continue in 2016. (Skift)
The Best And Worst Airlines, Airports And Flights, Summer 2015 Update. (Five Thirty Eight)
Egypt Crash Stirs Fears of Security Loopholes in U.S.. (Skift)
Airbnb becomes even more like a hotel – does revenue management for hosts. (Tnooz)
The Very Profitable Life of the Airbnb Superhost. (Skift)
Take control: five ways hotels can push direct bookings. (Tnooz)
Hotels Change Their Hiring Processes by Holding Casting Calls and Auditions. (Skift)
The Welcome Return of the Posh Airport Hotel. (Skift)
Related: Why People Actually Like the Denver International Airport. (New York Times)
No more of the same, please. (Economist)
UAE and Oman: Expectations vs Reality. (T-Rex Runner)
My $120,000 Vacation. (New York Times)
MISCELLANY
How to Save Money While Living in the City. (Kelly in the City)
I Quit Online Dating. Should You, Too? (Yahoo Health)
Infographic: America's Favorite Thanksgiving Dishes. (ProFlowers)
The recipe tester's life: Culinary secrets and celebrity chef foibles. (Independent)
Here's why you're 'addicted' to cheese. (SF Gate)
Why Cookbook Clubs Should Be the New Way We Entertain. (Serious Eats)
Two Families Sharing a House (Would You?). (Cup of Jo)
This Video Shows Why Consent Should Never Be Confusing. (Greatist)
Finally, for a laugh: We Are Pregnant! (New York Magazine)
---
Like this post? Want more fun articles in real time? Follow me on Twitter or become a Facebook fan to get similar stories all week long.