This weekend was my one year anniversary of moving to Colorado, and I celebrated in a really awesome and typical-Colorado way: by heading out to the mountains for a weekend of skiing with a huge group of friends! Twelve of us rented a beautiful slopeside condo in Beaver Creek, and had a fabulous weekend skiing and snowshoeing. Plus, our afternoons and evenings were then spent toasting drinks in the hot tub, around the dining room table while playing Cards Against Humanity, and over delicious pub food at Vail Ale House. It was a blast!
Adam flew in from Phoenix for the weekend to join in the fun, and so while the rest of us had all known each other for at least a year, our arrival at the condo kicked off a round of introductions to him. I had "prepped" Adam by telling him a little bit about everyone he'd be meeting, but today when I came across a whole slew of articles on how to make introductions, I wished I had found them beforehand – there were some great tips! However, Adam and all of my friends are incredibly social and easygoing, so despite my not being the perfect "host", they made fast friends and got along great. In case you're ever going through a similar situation, here are those cool articles I happened to come across this morning (evidently everyone in my RSS feed is writing/sharing about the same topic?):
After introductions, Friday night was incredibly fun – all hanging out around the dining room table, eating far too many snacks (buffalo everything? Yes, please!), and enjoying some Colorado whiskey and wine while we laughed our heads off playing Cards Against Humanity. That is basically the perfect kind of night for me: a low-key gathering where my friends can just hang out with each other and talk until the wee hours. (Which to me means midnight, thanks.) I much prefer nights in like that to going out, especially on a Friday night when I'm tired from the week, and that's a big part of why I made it my New Year's resolution to host things at my place once a month. The comfortable homey atmosphere is what I prefer anyway, and the cost of hosting a whole bunch of people is basically what I'd spent on just myself if I had to pay restaurant/bar prices. (Plus, while my friend Kelly got us a really killer deal, booking a slopeside condo for a weekend in Colorado isn't cheap – it was nice to get a break on food/drinks!) Although my new house is nowhere as nice as that gorgeous mountain condo, I am really excited to host similar game nights in my home soon!
While we had a great time and are already starting to plan a condo for next year, one of my regrets of the weekend was that we didn't get as much time together as one big group as I would have liked. On Friday, we had originally thought that we couldn't get into the condo until 4pm, so a few people came early anyway but a few didn't arrive until 8 or 9pm. (And since we are all old people who go to bed by midnight at the latest, that meant not a ton of time to hang out that night – though we definitely made the most of the time we had!) The next day, some people went snowshoeing and some went skiing, and it proved difficult to coordinate on one location for lunch – so it really wasn't until dinner that night that we all got to hang out in one big group. But by then, we were all really tired, and most people were leaving first thing the next morning! I definitely had a blast on the trip, but the fragmentation of the group was a little different than what I had expected.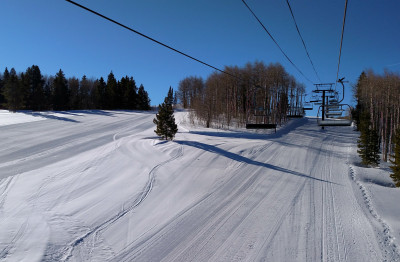 Where I felt like the group worked best was when we broke up into smaller groups. In fact, this is borne out by research: that if you have any more than five people in a group, you'll start to see the formation of cliques. Of course, we all got along great, so it wasn't a true "clique" like most people think of it where people were excluded, but I was bummed that I didn't get to spend as much time with some people as I would have liked. (The blame there probably also lies mostly with me and how antisocial I am about skiing; I prefer to ski solo and then just meet up with others for lunch and apres.) Overall, the time we had in Beaver Creek was awesome, but I wish we could have stayed longer than just a shortened weekend and really settled in.
On the other hand, Eric Barker's article on research-backed tips to building a great team shows that there were some things that we did very right by going with such a big group. Everyone in the group has great social skills, and I was thrilled that everyone felt comfortable hanging out with and talking to everyone else. Barker also finds that "the most creative teams are a mix of friends and strangers", and I think we proved that in some of the awesome and hilarious ways in which we interpreted Cards Against Humanity 🙂 I think that openness on everyone's part is what prevented a clique-like vibe despite the large size of the group.
Barker also notes that "team morale is all about good storytelling". One thing I just love about all the people on this trip is that they are smart and funny people who all have fabulous stories to tell. Whenever we did get together as a group, we shared stories and laughed until our sides hurt. I want more of that, please! Too bad for me that Saturday night after dinner I was falling asleep on the couch at 9pm. #Grandma
With all that said, this was a fabulous weekend overall. I think it's really fitting that for my first "Colorado anniversary" of the day that I moved here, I spent it with almost the same exact group of people who were at my housewarming a year ago…. but I also got to add a few new relationships into the mix! One of my biggest fears about moving to Colorado was losing my friends in New York and Dallas (or at least becoming a lot less close with those friends), and it just makes me so happy that the relationships I'm making now are lasting even as I continue to meet tons of new people and go off in a million different directions.
So… same place and same friends next year? Or hopefully even sooner, and again and again 🙂