I had planned to (finally) do a post today about my New Year's resolutions, and what my specific goals for 2015 are. Instead, I find myself looking back instead of forward…
Yesterday, I flew from Denver back to Dallas in order to help facilitate a training class today. I was excited about the trip – I thought it would be a nice chance to catch up with friends and get back to the city that I used to work in for 3.5 years. However, as soon as I got in my rental car, I felt nostalgic. Not because it was my usual Ford Edge that I always nicknamed Buster (sadly); the car was actually completely unfamiliar. But it struck me as slightly odd and deja vu how I instinctively turned left here and right there in order to get from the airport to my old familiar hotel, completely on autopilot.
When I arrived at the hotel, I swung into the area of the parking garage closest to the north tower elevators (not the ones right by the parking garage entrance, where most newbies try to park), and headed up to the check in desk. I half-expected to see one of my old colleagues sitting on the bench in the lobby awaiting a group dinner, except that it was Thursday night and they were all on flights home.
I walked up to the front desk and saw completely new staff that I didn't recognize… but then when I was in the middle of checking in, the manager walked out of the back and I saw that my favorite check in staffer had gotten a promotion. She was really excited to see me, and insisted on coming around the desk to give me a big hug and welcome me back. (She also told me that they had a package for me at the business center that had been there since September… oops.)
That trend continued at dinner, when I went to my favorite Thai restaurant and the staff was really excited to see me. "Where have you been?? We were worried about you!" (Okay, so maybe I had a slight addition to summer rolls and pad thai no sen over the last few years.) I went to bed (in the same corner suite I had so many hundreds of stays), feeling kind of like I had never left, and like this was the home I had been away from for the last few months.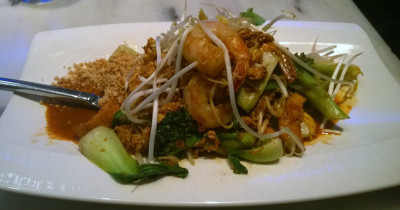 This morning, I went to Flywheel… and while I walked in and didn't recognize the new staff at the front desk, I heard one of my favorite instructors go, "Oh. My. God. Look who it is!" while I was checking in, and we ran to each other for a huge hug and some catch up. I told him how much I missed Flywheel (I like Beat Cycle in Boulder but it just doesn't compare), and then I heard another squeal of excitement. I had forgotten that my friend Morgan moved to Dallas right around the time I left, and it turns out that she's now a Flywheel fanatic too! Flywheel – where everybody knows your name.
All this (and more that I'm not going to bore you with recapping) is to say that going back to Dallas felt like home, far more than NYC has during the couple of visits I've made there. (And more like home than my actual childhood home in upstate NY, for that matter.) As much fun as I had in NYC, it always felt temporary to me – a place to go right after college and live the exciting city life, then finally mature and move to a suburban city and buy a house. Dallas had always been under consideration for that, since it's a city where it actually felt like the suburbs were livable (NYC suburbs, not so much for me personally – no offense to those of you who do live there!). And now, I am just so conflicted.
My life has gotten so much better since I moved to Colorado. I think it is the most amazing place in the country – we have the mountains (and all the skiing, hiking, and views that entails), the city (great restaurants, culture, events), a super active and friendly population… I could go on forever. Colorado really is a better choice for me as a home, but going back to Dallas just made me miss that city so much, and now I somehow feel incredibly sad going back to Colorado.
I think I need to do my long run tomorrow to clear my head and remember how beautiful Colorado can be…