I participated in an Influencer Activation on behalf of Influence Central for Dunkin' Brands. I received a promotional item to thank me for my participation.
This post is coming to you from sunny Puerto Rico! I had a work trip here today and tomorrow of this week, so I chose to take a seemingly random vacation day Wednesday so that I could fly out a day early and enjoy some beach time before I head for meetings in Old San Juan. It's been a blast so far!
On Tuesday night, after a fantastic night out in Arvada with a few of my best girlfriends, I headed to the airport and hopped on a red eye. Though I don't know if you technically call it a "red eye" when it's a mid-con instead of a transcon, and the flight is only 4 hours – that is not enough sleep for me! I arrived at Miami Airport pretty bleary-eyed and desperately seeking coffee.
I used to have a membership to the Admiral's Clubs, which meant I could get free coffee (and other snacks) at the airport lounges on layovers, but they recently changed the program so my AmEx doesn't grant that privilege anymore. However, I recently learned that Tuesday was the first anniversary of Dunkin' Donuts' DD Perks Rewards program – and it reminded me that I had some free coffee rewards on my DD Perks account that I wrote about in December. When I checked the airport map, I was psyched to find out that Miami Airport had a Dunkin' Donuts at gate D29 – just a few gates away from my flight to San Juan at D32. Perfect!
Because Miami Airport had free wifi, it meant that not only was I able to get some work done on my layover, but I could also use my Android tablet to pull up the Dunkin' Donuts app and use that to pay. With my DD Perks Rewards, it meant that my coffee was just as free as when I had a club membership! Awesome. And the Admirals' Club coffee is definitely not as good as Dunkin' Donuts' coffee anyway. I really love adding a blueberry flavor shot to my coffee at Dunkin' Donuts, and usually mix it with either vanilla or hazelnut for a truly awesome flavor combo. (But they are unsweetened, so it doesn't end up being sticky sweet by adding a few.)
Dunkin' Donuts recently created a short video thanking their fans for their support since launching DD Perks one year ago; you can watch it below:
And to celebrate the program's first anniversary, this week (1/28 – 2/1) Dunkin' Donuts has a special present for its loyal guests! They will be offering all DD Perks members an extra special perk of 200 points, good for a free, any-size beverage of their choice, with any purchase. If you aren't a DD Perks member, remember to use promo code BLOG to get an extra bonus for signing up.
So after my coffee, what was my day like? Well, I had forgotten that I wouldn't be able to access in-flight wifi once the plane got far enough away from mainland Florida – so that meant that I actually had some blissful time to finish a great novel, Jane Smiley's Some Luck. I finished the book right on the final approach before we landed – perfect timing!
From the airport, I quickly grabbed a cab and headed to the little guest house where I'd be staying Wednesday night before moving to the corporate hotel on Thursday. A few months ago, Orbitz ran an awesome promo where you could take $100 off a hotel booking of $100 or more if you used a Visa card – so I booked a place for $120/night and got it for just $30 with taxes! Now that is traveling on a budget 🙂
The Tres Palmas Inn is definitely older and not fancy. However, it's perfectly clean, super cute, and the staff is really nice and helpful – I've asked them for a bunch of recommendations and they've been incredibly friendly and eager to assist.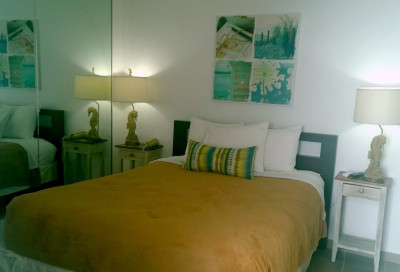 From the guesthouse, I took a quick 10 minute walk through a residential neighborhood to a group of restaurants, ending up at a local fast food favorite, Inca Chicken. They had a fantastic special where you got 1/4 roasted chicken, the side of your choice (on the waiter's recommendation, I chose the green rice), and a drink, all for just $7. Although I thought it was funny that I was in Puerto Rico and eating Peruvian food, it was actually much better than the Peruvian chicken I had in Peru!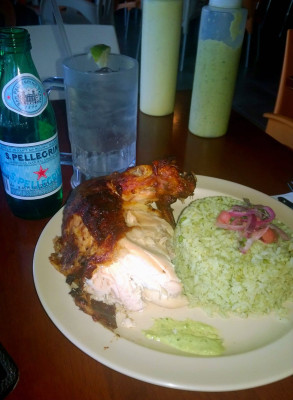 I then returned to the guesthouse, threw on my swimsuit, and headed for the roofdeck instead of the beach. Is it horrible that I like the views of a beach but prefer to not get sand all over everything? (Because you know that no matter how hard you try to avoid it, if you bring a bag to the beach you will be taking home a ton of refugee sand.) But the view was gorgeous, the sun was great, and I ended up falling asleep to the crashing sound of the waves on the shore – totally sand-free!
I had a really relaxing time napping and then reading some magazines, but as dusk approached, I felt guilty that I had spent all day doing nothing – first sitting on a plane, then lying on the beach chair. So I headed for a power walk on the beach before I grabbed dinner, and was rewarded with some amazing views:
I wasn't all that hungry for dinner, so decided to take the opportunity to try out something that I wouldn't normally think would be filling enough for a full meal – an acai bowl at a local place that got rave reviews, Superfoods. The bowl was absolutely delicious! I got mine with the frozen acai, sliced banana, vanilla hemp almond granola, and chia seeds on top – and it was way more filling than I would have expected. I definitely need to recreate this at home!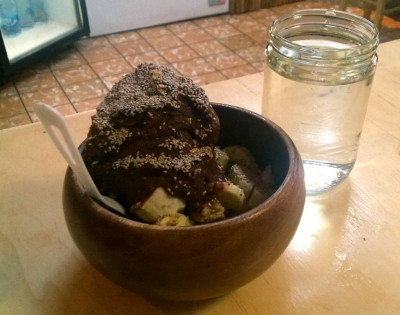 Totally happy with my vacation day in Puerto Rico, I headed back to the guesthouse and climbed into bed at 8pm so I could read and then go to bed early to further catch up on sleep before my work events the next day. I'm so glad I decided to come out here early and take a day off! I have been really lacking on sleep lately, and while I appreciated the Dunkin' Donuts coffee to revive me after the (half) redeye, I think some actual rest and relaxation is just what I needed.
Disclaimer: I received a promotional item as a thank you for writing about Dunkin' Donuts DD Perks program, but I am (and have always been) a Dunkin' Donuts customer. While in DC last week, I was quick to hit up the airport Dunkin' Donuts there for a blueberry-vanilla coffee… you have seriously got to try that combo! Dunkin' Donuts coffee is something that I wholeheartedly endorse whether I'm getting it through a promo or paying for it with my own money.