I know that I kind of dropped a bomb on here with news of my surgery next week – and while I was pretty calm in that post, I am starting to get freaked out now that it's just a week away. Between that and the slipped disc in my neck last year (which was also a gradually-over-time byproduct of no one specific thing rather than an acute injury), it seems like I'm getting old and my body is starting to rebel! Very frustrating. I'm trying over the next month to completely redo my home office setup so that it's as ergonomic as possible – given all the hours I spend on my computer, I'm thinking it will be worth it in terms of promoting good alignment and preventing further injuries. Stay tuned for more on that front in the next few weeks…
However, the good news is that my slipped disc is no longer bothering me, and I think that's in large part because I take a lot of time to stretch my back/neck/shoulders, and also treat any knots that pop up very quickly, so that I can stay loose and limber. I definitely hold a lot of my tension in my upper back, which is what contributed to my slipped disc, so ever since then, I've been trying to minimize that tension wherever possible.
So, it's now time for me to make this into a PSA: rather than waiting until something bad happens, take preventative measures now to keep your back loose and limber. Here are the tools I use to do so.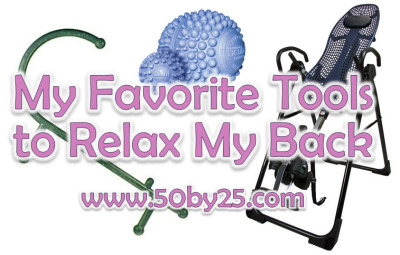 Fits in your purse: Dr. Cohen's Acuball Kit (Retail price: $60)
Relax the Back is a pretty awesome store that has just about everything you might need to… relax the back. (In fact, all the tools I am going to write about are also sold on there – it's really comprehensive!) They were kind enough to send me Dr. Cohen's Acuball Kit for me to review, and I was really psyched to try it. I had long heard about the benefits of using hard balls as pressure point massage tools (like this video from Q by Equinox), and Dr. Cohen's kit takes it up a step by adding little nubs to their Acuballs. The kit includes a large Acuball (about 3″x5″; it's a bit oblong) and a small Acuball (round and about 1.5″ in diameter), so both of them are pretty small and compact. However, they definitely pack a punch!
The little Acuball is slightly more solid, like a lacrosse ball, while the larger one has a little bit of rubbery give to it. I actually prefer the larger Acuball, because it's easier to put it between my back and the wall and roll around to have it dig into my tight muscles. I found that it was much easier to use the Acuballs on the wall rather than on the floor – otherwise it was just too much pressure. However, I've taken to keeping the smaller ball under my desk at home, and rolling my bare feet around on it to get at all the pressure points. After a long run or several hours spent in high heels, it feels incredible to roll my toes and arches around on this! I wish I had it in my ballet days on pointe…
A few final great things about the Acuball kit. First, it comes with a little stand for your Acuball, so it doesn't roll away and get lost. I know that sounds minor, but I have definitely lost things like this in the past, so I like having something to set on my desk and make sure I know where it is! Second, the larger Acuball can be safely heated up in the microwave for some extra muscle loosening. I have especially enjoyed doing that when I get home from a long run in cold weather… it feels so good! Finally, if you're not quite sure what to do with your Acuballs, the kit also comes with a book and DVD that teach you all the best techniques to use. I'm still learning them (and probably will be for a while!) but it's definitely helpful to find new ways to target what hurts.
Verdict: 4.5 stars for targeting my pressure points almost as good as a real masseuse, but still being incredibly portable and easy to take on the go.
Can usually be carried onto a plane: Thera Cane Massager: (Retail price: $35)
The Thera Cane was recommended to me by a coworker right after I slipped the disc in my neck – she said that she brings it with her when she travels, and uses it whenever she feels knots developing. I immediately bought it on Amazon and was excited to try it when it got there. Sure, my friends teased me about it a little bit… but when I brought it to the office and kept it in my cube, after the initial weird looks from my coworkers, a few would sheepishly come over and borrow it for a few minutes to work out their sore muscles 🙂
So how does it work? Well, as you can see in that pic, you definitely do look a little bit silly using it! But essentially, the way I use it is by holding the straight end and then positioning the loop end up and around my shoulder, so that the ball on the end can dig right into those tight upper back muscles and really hit the exact spot where I need it. In comparison, I found that it was a little trickier to position the Acuball in just the right spot without letting it accidentally fall to the floor – but then, the Acuball was a little more relaxing to use.
Despite the fact that I look kind of stupid using it, this device has really been a godsend when I have a specific knot, because it's really easy to adjust both the location of the pressure point and adapt the strength to exactly what I need at that moment. Particularly with my left hand not really being very functional for massaging my trapezius muscles connecting my neck and shoulder (which is where I tend to get the most tightness and pain), I love that this allows you to get in there deep without needing to be very strong. It's not as relaxing as getting a massage, definitely, but it gets the job done and I frequently find myself craving it.
While my coworker said she brings it with her when she travels, I found that it was just a little too big for me to easily do that. It doesn't fit in any of my carry-on-sized suitcases (unless I don't zip them up all the way and leave it poking out a few inches). I found that airlines were generally happy to let me bring it on in addition to my rollerboard + laptop bag, since it just slides into the overhead right on top of my rollerboard, but I wouldn't want to have to count on that. That said, if you're not traveling and staying home, it's so slim that you can tuck it away pretty much anywhere – I keep it behind the door in my den.
Verdict: 4 stars, for being bulkier and a little sillier than the Acuball kit, but also slightly more effective at getting specific knots.
The big bad relaxing beast: Teeter Hangups (Retail price: $400-600 depending on model)
The Teeter was definitely the biggest and most expensive of these tools that I've tried… but while I was initially skeptical, it's really proven itself and I absolutely love it. The awesome marketing team for Teeter Hangups offered to send me a Teeter Hangups inversion table to review, and I was pretty darn pumped about that opportunity. Ben Greenfield talks a lot about the benefits of inversion tables on his incredibly well-researched and informative podcast, and he's noted that it helps a ton with recovery from a hard workout plus can also aid in alertness and maybe even brain function. There are also a bunch more benefits listed here at the Teeter website: relieves back pain, eases stress, improves joint health/flexibility, and improves fitness/builds core strength. That's a lot of benefits just from lying there not doing anything! (Okay, the last one is based on some exercises that do require you to do stuff… so far I've mostly just been using it for relaxation though.)
I know I just talked up the benefits quite a bit, so you might wonder what I was initially skeptical about. Well, when the Teeter arrived, it was kind of intimidating: it's a huge box that weighs about 60 pounds, with all the parts carefully padded and locked down to each other to prevent damage during shipping. It probably took me about 45 minutes to get it set up. The instructions are great and it's really not that hard (it even comes with all the little wrenches/screwdrivers you need) but I'm terrible with any kind of assembly and usually can't handle anything much more complicated than an Ikea bookcase.
Once I got it set up, though, I was glad it was so big and sturdy – if I was going to be hanging upside down, I wanted something that felt totally safe and not like it was going to drop me. As it turns out, Teeter Hangups is the only brand that follows certified inversion table safety standards, and was rated by Dynamark Engineering as the best inversion table for endurance, strength, rotation control, and ease of assembly. This is a really solid piece of equipment!
That said, its quality and stability also meant that it turned out to be a lot bigger than I was expecting! I ended up putting it in the corner of my den, where it would be out of the way, but this probably wouldn't have worked well in my NYC apartment. Fortunately, the Teeter actually breaks down into two flat pieces pretty easily (I'd say less than 60 seconds), so if you're short on space, you could fold it up and keep it under a couch or bed or something…
…but I didn't do that with my Teeter, because I am literally using it every. single. day. Sometimes even multiple times a day! I go lie down on it in an upright position, then use the easy locking mechanism to lock my ankles to the bar. (Think like the adjustable pads on machines at the gym… it's perfectly comfy, though I know "locking" your ankles in may seem scary at first.) And then, just by moving my arms back up over my head, gravity helps to pull my body back until I'm hanging upside down! I was really impressed by how easy it is to flip back and forth, just by using your arms to change your sense of gravity. The Teeter also has several settings so you can set it to invert to 180 degrees easily, or have it be harder to move so you're inverting at a lesser angle.
If you've never tried inversion, I can't tell you how amazing it feels – I usually get a little pop in my spine as my vertebrae release (like cracking your knuckles… not scary), and then I get to enjoy the great feeling of the blood rushing out of my feet/calves and redistributing more evenly throughout my upper body. This is incredibly amazing when I work at a standing desk all day, and I also make it a point to go on it for a few minutes after every long run – which I think may be the reason that I haven't really had any soreness so far this training cycle. (17 miler tomorrow, so we'll see if that changes.) It feels so relaxing and wonderful to lie down in this position, and I have to admit that I've even considered trying to sleep on it… though I know that's prob not smart/safe and so am not going to actually do it. 😛
I know the Teeter is kind of pricey for those on a budget, but I really can't say enough how much I love this, and it's definitely solid enough that it will last for years and years. Honestly, the only downside for me is that I can't easily take it with me when I travel! (Though as I mentioned, it does easily fold up so you could put it in the trunk of your car if you're driving somewhere.) If you're worried about the price, I should note that the EP-860 model (which comes with a padded mat for under your Teeter that has illustrated demonstrations of the stretches/exercises you can do) is currently on sale for $300, which I think is really reasonable for such a well-made piece of equipment.
Verdict: 4.5 stars for being incredibly well-made, very relaxing, and 100% worthy of every day (or multiple times a day!) use. 0.5 star taken away only because it makes me really sad that I can't take easily this with me when I fly for short work trips 🙁
Overall
The three tools in my arsenal all complement each other really well – and I'm thrilled to note that since last summer, I haven't had any really significant back/neck pain. I haven't been good about going for regular massages, so that's all due just to these tools and their effectiveness! If you work at a computer like me, I would highly recommend finding some tools that work for you to prevent back problems before they start.
Disclaimer: Thank you to Relax the Back for providing me with the Acuball kit to try, and to Teeter Hangups for providing me an inversion table for my home. (The Theracane I purchased on my own.) I received no other compensation for this post, and these are genuinely three tools that I use multiple times a week to keep me relaxed! I love them and hope that you will too.