I've been crazy busy lately, and you know what happens when I'm busy: I don't take the time to write up race reports! I've run three marathons in the last month, but if you only follow my blog and don't check out my Instagram or Twitter, you'd never know it. Luckily, I'm working from home this week, which means that once I finish work each day, my nights are free to do what I like – and I'm going to use them to finally write up my Colfax Marathon, Prince of Wales Island Marathon, and Estes Park Marathon race reports. Get ready for a whole slew of them this week!
To thank you for being patient, I wanted to do a really quick review and giveaway. Swirlgear invited me to test drive their long sleeve /white camo shirt, and when I heard their company story, I couldn't resist giving them a little love.
Swirlgear was started in 2008 by Lacie Whyte (hooray for women in business). Remember when I was laid off from my job in 2009? Lacie ran into similar problems with the economic climate at the time, and couldn't make Swirlgear work. But rather than give up on it entirely, she changed some things that weren't working, and also waited for a better time – relaunching in December 2012. How's that for a great real life example of fixing the things you can change and making peace with the things that are out of your control?!
Swirlgear's pieces are all made to fit longer than your average running apparel, and everything is flat-seamed and made from wicking, technical fabric. They wanted the fabric to be as thin as possible, but also find something that wouldn't snag, and I really appreciate that kind of attention to detail. I have so many tops that just look terrible because I'm not careful about catching them on things! (And I definitely don't want to be worried about that when I should be worried about equipment, form, etc.)
As soon as I tried on the long sleeve white camo shirt, I could tell the fit was very different than what I'm used to. At first, I thought maybe it didn't fit right, since the torso and sleeves were so long. But the more that I wore it (like to Sunday's marathon), I loved it – the long torso especially is really flattering and makes me look like I have a longer, leaner figure. The side panels help contribute to that, and I took note that the flat seams help to avoid adding any bulk. That said, my tummy has been a bit big lately, and the material does cling to curves – I couldn't wear it with pants that had any kind of fold over waistband or it looked weird.
The material isn't the lightest of the tech shirts I own, but that also means it's not flimsy, and it's definitely breathable. Ever since moving to Colorado, where the sun is incredibly strong, I've found that it's a good idea to toss a thin long sleeve on over my tank top for long runs even when it's hot out, so that I don't get sunburnt. This is a nice staple for that, especially since it's white/gray and can go with just about anything. My New York friends have long teased me about the white fleece that's a staple in my running wardrobe, and this I think will be my summer version 🙂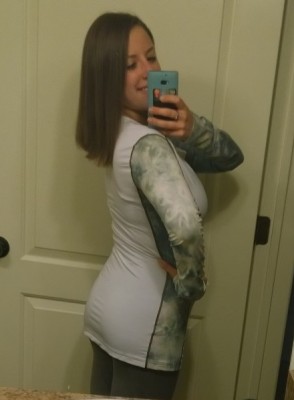 As a startup, Swirlgear doesn't have a ton of space for inventory – and they are launching their new line in a few weeks, which means they need to clear the shelves. Therefore, this top is only $22 (marked down from the regular price of $56), and there are a whole bunch of other sale pieces on their website as well – including a special 2014 Boston Marathon-themed long sleeve that is pretty cute. (Unfortunately, I haven't run Boston since 2010, so that one is a no go for me.) The new line will have similar elements as the current line, but also some new features – like the thumbholes in the sleeves that so many runners love. That would fit great with the long sleeves of these shirts!
Giveaway!

One lucky reader will win the same long sleeve white camo shirt that I'm wearing, in your choice of sizes. To enter, click through your reader of choice and use the Rafflecopter widget below. You can get one entry for a comment, one each for following me on Twitter/Facebook, and one for tweeting about the contest. The giveaway will remain open for a full week, until next Sunday at midnight.
Thank you, Swirlgear, for reaching out and giving me a chance to learn more about your brand – I'm excited to support you!
Note: Swirlgear provided me with a shirt just like the winner of this giveaway will be receiving. Otherwise, I received no compensation for this post, and all opinions expressed in this review are my own.