I participated in a campaign on behalf of Mom Central Consulting (#MC) for Reebok. I received a product sample to facilitate my review and a promotional item as a thank you for participating.
I have a lot of sneakers. This was most evident when I went to pack for my big move from New York City to Denver, and I found that my sneakers wouldn't even fit in one box – they required two. Problem was, I wasn't wearing most of those sneakers. The life of a running shoe is generally 300-500 miles (depending on who you talk to), and I had plenty of old sneakers that were past their expiration as a running shoe, but that I kept to wear for "other stuff." Now, I may still be a little bit fashion-challenged, but even I know that it is a bit of a faux pas to wear something like my beloved Asics GT 2110 with jeans. So those never got worn.
But the Reebok Skyscapes are designed to be fashionable, so when I was offered the chance to give them a try, I was psyched. These are definitely not running shoes – they aren't supportive enough to withstand pounding. But they are great for walking around comfortably and looking great while doing so. I'm sure this is an "oh god, you mean you didn't already learn that from us?!" moment from Ashley, Blake, and Theodora, but now I have learned that I ought to have some fashion sneakers in my closet as well as my regular running sneakers.
My point about these not being running shoes is not to say that the Skyscapes aren't comfortable – in fact, I'd agree with the Reebok Miranda Kerr commercial that they're so comfortable that you almost forget you're wearing them! The Skyscapes are very flexible – kind of like the Puma Formlite XT Ultra Fluos that I reviewed a while back and was able to fold in half – and similarly lightweight, again clocking in at only 5 ounces.
One unique thing that I really liked about the Skyscapes was the material, which was unlike any other sneaker I've tried. It kind of reminded me of neoprene! It's two-way stretch material, and the manufacturing process the Reebok uses (which is the same one used for molded foam cup bras) results in a seamless inside, which reduces chafing and irritation. This would be a great shoe to wear for a walk on the beach, where I could see them being part of a really cute casual look with capris. If you're fashion-challenged like me and aren't sure how to style them, you can check out Reebok's #StyleNeverStops page for five ways to wear your Skyscape sneakers. I really liked the polished and casual look with cuffed jeans!
The insoles were also very well-cushioned – so even though the shoes don't have a ton of structure/support, they're very comfortable. Because they're seamless, I was able to wear them without socks, and my feet didn't get at all irritated from doing so. These would be a great shoe to throw on when I'm headed to yoga or pilates at Bodybar – I never know what kind of shoes to wear with an athletic outfit but when I don't need socks for the class! The Skyscapes are also machine washable, which means if you wear them sockless and they start to get a little weird-smelling, you can just remove the insoles and toss them in the washing machine. (Did I mention how much I love having my own washer/dryer in Colorado? Clearly I am looking for any excuse to use them!)
Although the Skyscapes come in a ton of different bright fun colors, if you're picky, you can also design your own on the Reebok website, customizing the upper, sole, laces, and even eyelet colors. Here's my snazzy aquatic-inspired design: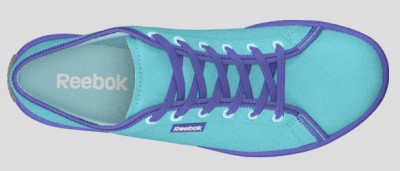 If you aren't as concerned with the customization though and just want one of the pre-crafted designs, like I received, the Skyscapes are also available at Kohl's for a great price of $59.99. This is a lot less expensive than running sneakers, so it makes it a bit more palatable for me to buy sneakers for walking/fashion rather than for pounding the pavement in a marathon 🙂
Disclaimer: Reebok/Kohl's provided me with the shoes and a promotional item for an honest review, but I was not pressured to write a positive review and all opinions expressed in today's post are mine alone.