Although my job sometimes has its challenges (see: only sleeping in my own bed two nights a week), there are some definite perks as well. One of my favorite is our "in lieu of travel" policy. Basically, since my company expects to fly me from home to Dallas every week anyway, I am allowed to fly somewhere else instead for the weekend, as long as the price of the flight is the same or cheaper. (The only catch is that the price of the flight is then treated as taxable income, so I pay about $100 out of pocket when I use this privilege.) Still, $100 is a small price to pay for getting to travel! I can be pretty frugal about some things, but I value travel very highly and that's what I spend most of my discretionary income on.
This weekend, I needed to be in Dallas on Saturday afternoon. However, I didn't have any plans after 4pm Saturday, and since I'm trying to spend as many weekends as possible in Denver so that I can really settle into my new home, I decided to combine two away-from-home things into one weekend – and I hopped on a 5:30pm flight to Florida. Specifically, to Palm Beach, where one of my best friends from college lives. I hadn't seen Kelli since we met up in Charleston last year, and since she recently shared the exciting news that she's having a baby in September, I knew it was time for us to catch up again!
I didn't get to Kelli's house until 10pm, but I had been able to coordinate with her boyfriend over Facebook so that she was still awake (and totally unsuspecting). When I walked in, she was so shocked to see me, and couldn't understand what I was possibly doing in Florida. "Are you here for business?" "No." "You're here just to see me?!" "YES!" (Uh oh, apparently I have not been doing so well on the relationship front if it's surprising that I'd travel just to see a friend.) We stayed up for a while longer to catch up, and I was so thrilled how it felt like almost no time had passed, and we were right back in college hanging out every single night. Friends who make you feel like that are priceless!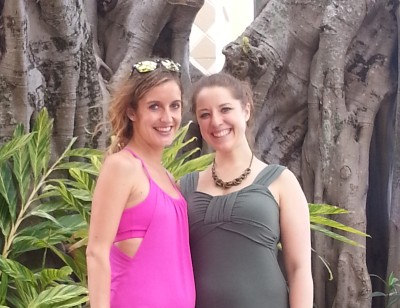 My trip was short (I'm on a plane back to Texas now), but we managed to squeeze a lot into that time. Palm Beach has a fantastic farmer's market on Sundays, so after the most delicious homemade breakfast sandwich (everything bagel, egg white, tomato, and fresh basil leaves – sometimes the simplest things are the tastiest!), we headed there to wander the booths. It was cloudy when we arrived, but after a quick five-minute rain shower, the weather turned beautiful for the rest of the day. I had never been to Palm Beach before, and really enjoyed checking out that gorgeous (but wayyyy too pricey for me) shopping district – so much to see!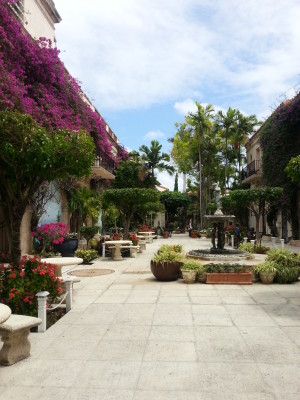 But as I already mentioned, this morning, I headed back on a flight to Dallas – and freezing 40 degree temperatures. Since when is Texas cold in April?! I can't wait for it to be summer here, yes, triple digit temperatures and all. Being in Florida reminded me how much I appreciate the dry heat of Texas (the Florida humidity was really wearing me out at times), and I honestly am happy as a clam in the summer here. Now, let's hope that comes soon!