I am participating in a campaign on behalf of Mom Central Consulting (#MC) for RadioShack. I will receive a gift card to facilitate a shopping trip and promotional item as a thank you for participating.
Recently, the airline industry has been abuzz with the news that the FAA finally agreed to allow electronic devices to be used between taxi and 10,000 feet / 10,000 feet and touchdown. This is huge! I know that there's a sentiment about "being in the air is a chance to disconnect; why would you want to change that?" but I think that for frequent travelers who are flying once a week or more, that's just way too much time to be off the grid. I did really enjoy the 20-30 minute no electronic device period as a great time for reading, but the fact that I couldn't read on an electronic device also meant that I continue to tote around stacks of library books instead of having everything nicely packaged in a chic e-reader. I don't even own an e-reader or tablet, since I'd only use them for reading and I can't use them during this most sacred of my reading times!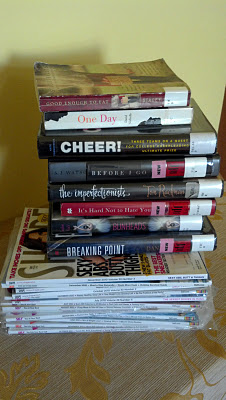 However, now that we are (mostly) allowed to use our electronic devices during that period, everything is fair game… and I have my eye on quite a few different electronic gadgets. Mostly, I'm torn on the e-reader vs iPad/tablet debate. I currently carry a Samsung Galaxy S4 phone, which has a pretty big screen for a phone, and I frequently use it for watching TV at the gym. The only thing that I don't like about my phone is that it's harder to type on my phone that it is on a real keyboard (although I've gotten better about that since learning Swype, which really does make typing a lot faster). Because typing on my phone still isn't all that easy for long form text, it's pretty rare that I go anywhere without my laptop as well – which lets me bang out long text anytime I want, at a blazing fast speed of 106wpm. (Okay, so perhaps I know that because Adam and I are total nerds and challenged each other to a type-off using this free test. Whatever, I'm proud of my typing abilities, even though they weren't fast enough to beat Jaime D when we took "keyboarding class" in middle school.)
Anyway, all this is to say that a tablet has previously been an irrelevant item for me. If I want to type, I use my laptop keyboard; otherwise, my phone does everything I need it to do. Tablets are supposed to fill that niche in between a laptop and a phone, but for my needs, it's a space that just never needed filling… until now. Although I consider my phone to be plenty big enough to watch TV/movies, it's not a great user experience to read a whole book on that tiny screen – and laptops are still verboten since they could fly around the cabin and hit someone in the head if there's crazy turbulence on the ascent/descent. (Why a laptop must be put away but a tablet doesn't need to be is beyond me, particularly when you consider the case of tiny netbooks… but that's a ruling for another day.) In short, I think it's finally time for me to look into getting either a tablet or an e-reader.

And after getting a tablet of my own I can look like the cute little girl in Lily's Delta Surprise? (Minus the pink laptop bag… maybe.)
As luck would have it, RadioShack recently contacted me wanting to partner up for the holiday season – and since I'm newly in the market for electronics, I decided to accept. Since my professional area of interest is customer impact / digital marketing, one thing that really stood out to me about RadioShack's proposal was that they have a pretty innovative marketing campaign for Black Friday this year. Across pretty much every industry, customers are expressing increasingly higher preferences for personalization – in products, in services, and even in the way those products and services are presented to them. Furthermore, everyone wants to convey and have a brand care about what's most important to them – with companies making increasingly terrible moves that alienate their customers and indicating that they don't care, being heard is becoming a major brand differentiator.
At the holiday time in particular, there are so many conspiracy theories about marketers pushing products on us that we don't even want… and turning those weird/worthless items into the latest have-to-have-it craze (remember the Tamagotchis of the 1990s?). But this year, instead of marketers pushing the products on us in the form of great deals we can't resist, RadioShack is instead giving shoppers the power to "Name Your Deal" by voting at the RadioShack Holiday Hub on which products and pricing they'd like to see on Black Friday. From now through November 22nd, you can vote on a preexisting deal, or pick the product and discount for which you'd most like to see coupons.
As a further nod to the changing times, they're kind of doing it reality-TV-style, where you have to vote to keep your favorite deals alive, and every day, the lowest rated ones drop off the list. (You'd better believe that I'm upvoting all the good deals on tablets!) On November 27th, RadioShack will announce which deals received the most votes, and customers can claim the coupon codes for those products online. No braving the malls on black Friday required! (However, RadioShack did want me to add that they will still be open at 8am on Black Friday for those shoppers who prefer to do it the traditional way. I'll stick with their less-stressful Cyber Monday sale, which starts Monday December 2 at midnight, and which I can shop without even getting out of bed.)
What do you think of this type of name-your-own-price marketing? Does it get you excited about the products, or would you rather just know what the deals are up front so that you can start comparison shopping? I'm not 100% convinced that I'll get the best deal by voting, but it is getting me excited about Black Friday / Cyber Monday more than I otherwise would be. Plus, it's putting the products out in front of me as a reminder to start comparing features ASAP so I know a good deal when I see one!
Disclaimer: I will be receiving a gift card from RadioShack in order to facilitate a holiday shopping trip there, but all opinions expressed are my own and I was not pressured for a positive review.